NAHL releases 2018-19 regular season schedule
July 2, 2018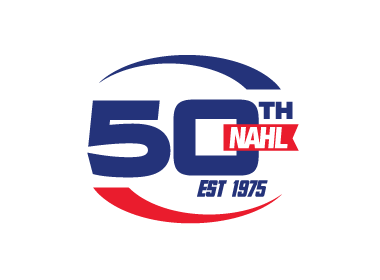 The North American Hockey League (NAHL) has announced the release of the 2018-19 regular season schedule.
Celebrating its 44th season in 2018-19, the NAHL is the oldest and largest junior hockey league of its kind in the United States and one of only two USA Hockey-certified leagues that operate under the non pay-to-play model. The NAHL is also one of the best at advancing players to NCAA and professional hockey.
The NAHL is on the cusp of setting yet another new single-season NCAA commitments record. With 305 commitments to date, the league has equaled its record-breaking total of NCAA commitments set last season. That also includes 221 NCAA Division I commitments this past season, which is a new all-time record. The league also saw nine players with NAHL experience selected in the 2018 NHL Draft held last week in Dallas, Texas.
"The schedule release is always an exciting day for NAHL teams and fans as they get the first look of which teams they will be playing and what type of rivalries will be forged and continued this season. We are coming off another incredible year of advancement and development, with another record-breaking NCAA commitment total and nine players selected in the 2018 NHL Draft," stated NAHL Commissioner and President Mark Frankenfeld. "Our owners worked together diligently and collectively to make the schedule happen in a timely manner and our continued success is the direct result of their leadership and commitment, along with the talented players, committed coaches and wonderful relationships with the NCAA and NHL."
2018-19 NAHL Divisional Alignment and Schedules:
Each of the 24 teams in the league's four divisions (Central, East, Midwest and South) will play 60 regular season games. The regular season will commence on September 13, 2018 and end on April 7, 2019.
The 16th annual NAHL Showcase Tournament will be held from September 19-22, 2018 at the Schwan Super Rink in Blaine, Minnesota. All 24 NAHL teams will play four regular-season games at the Showcase, which is one of hockey's most prominent and popular events of the entire season. For scouting purposes, the event is a yearly gathering for every NCAA program and NHL team as they get their first look at some of the best and brightest hockey talent North America has to offer. A showcase schedule will be announced on a future date. The 2019 NAHL Top Prospects Tournament will be held from February 18-19, 2019 at the USA Hockey Arena in Plymouth, Michigan. A schedule and format will be announced on a future date. The 2019 Robertson Cup Championship, which crowns the NAHL's playoff champion and USA Hockey's Tier II Junior National Champion, will be held from May 10-13, 2019 at a neutral site and will feature the four NAHL Divisional Playoff Champions. A location for the event has yet to be determined.