Minot forward Dollimer makes NCAA commitment
July 2, 2018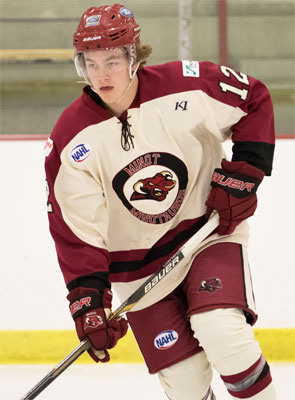 The Minot Minotauros of the North American Hockey League (NAHL) are proud to announce that forward Austin Dollimer has committed to play NCAA Division III hockey for Augsburg University in Minneapolis, MN.
Dollimer, 20, played 127 career games over the course of two seasons in the NAHL for the Tauros including playoffs and posted 21 goals and 51 assists over his two seasons in Minot.
During the 2017-18 season, Dollimer had 45 points in 57 regular season games. He was also selected to the played in the 2018 NAHL Top Prospects Tournament for the Central Division Team.
Aside from playing hockey the Farmington, Minnesota native intends to study finance while in school, and not just to stay eligible for hockey. When asked why he chose Augsburg over other NCAA Division III opportunities Dollimer said the following… "A big thing that attracted me to the school was the Augsburg hockey team GPA was a 3.9. It just felt right there for me and it felt like it was somewhere that I could have success."
Of course, the choice was not all academic, after being a member of the Tauros two most successful seasons he wants to keep winning games, "I really like the coaching staff and it will be really fun to join a program that has won the MIAC conference the past 3 years in a row."
"Austin will be a great addition to the Augsburg program. I thought he really matured as a player this year, and was a guy that could play in any situation. I honestly don't think Austin has hit his ceiling yet, and he should be a very solid collegiate player," said Tauros Head Coach and General Manager Marty Murray.
Dollimer (6'1/185) was quick to credit Minot with his development both on and off the ice, "being able to be apart of the Minot Minotauros organization not only helped me develop into a better hockey player but it also developed me as a person. I learned many things while in Minot and I was lucky to be a part of such a first class organization." He was also quick to thank those whom supported his journey, "I would like to thank my parents for the support they have given me my whole life, my coaches Marty, Wags [Assistant Coach Shane Wagner], and Waz [Assistant Coach Wyatt Waselenchuk] for pushing me to become a better player and person. I would also like to thank my billet family and teammates for everything they did for me over my two years in Minot."
Dollimer becomes the tenth 2017-18 Minotauro to make college plans. Dollimer will be the sixth Tauro alum to move on to Augsburg, and will join former teammate Austin Martinsen who just finished his Freshman season with the Auggies.