NAHL alumni prominent at NHL camps
June 29, 2018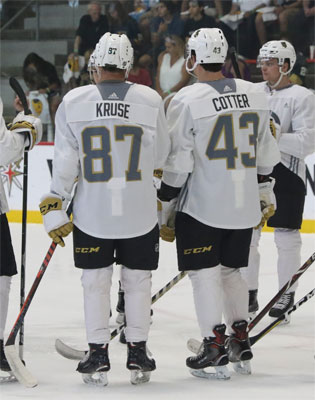 Every summer provides the annual opportunity for dozens of NAHL alumni to attend annual development and prospect camps across the NHL.
All the NHL teams hold their development/prospect camps in late June and early July. Former NAHL players were once again a significant part of the mix as over 60 alumni are currently at camps.
The numerous NAHL alumni at NHL development/prospect camps come on the heels of a memorable season for the NAHL.
The NAHL is on the verge of setting yet another new single-season NCAA commitments record. With 302 commitments to date, the league is just four commitments shy of setting the record set last season of 305 NCAA commitments. It also includes 220 NCAA Division I commitments this past season, which is a new record. The league also saw nine players with NAHL experienced selected in the 2018 NHL Draft held last week in Dallas, Texas.
Below is a team list of NAHL alumni at 2018 NHL development/prospect camps:
*Know of anyone we missed? Please send us an
email
.
Anaheim Ducks
Ben Schultheis, Minnesota Magicians
Arizona Coyotes
Kevin Klima, Springfield Jr. Blues
Kelly Klima, Springfield Jr. Blues
Troy Loggins, Wenatchee Wild
Merrick Madsen, Minot Minotauros
Ivan Prosvetov, Minnesota Magicians
Boston Bruins
Mitch Fossier, Janesville Jets
Colin Theisen, Coulee Region Chill
Buffalo Sabres
Ivan Chukarov, Minnesota Wilderness
Jake Kielly, Austin Bruins
Hunter Shepard, Bismarck Bobcats
Carolina Hurricanes
Jake Kucharski, Austin Bruins
Jack LaFontaine, Janesville Jets
Chicago Blackhawks
Josh Boyer, Brookings Blizzard
Columbus Blue Jackets
Kevin Fitzgerald, Aberdeen Wings
Peter Thome, Aberdeen Wings
Johnny Walker, Topeka RoadRunners
Dallas Stars
Jeff Baum, Wichita Falls Wildcats
Robbie Payne, Kalamazoo Jr. K-Wings
Detroit Red Wings
Sebastian Vidmar, Lone Star Brahmas
Edmonton Oilers
Colin Larkin, Michigan Warriors
Florida Panthers
Ryan Bednard, Johnstown Tomahawks
Jake Horton, Janesville Jets
Zac Solow, Janesville Jets
LA Kings
Andrew Shortridge, Aberdeen Wings
Nashville Predators
Tomas Vomacka, Corpus Christi IceRays
New York Islanders
Yu Hikosaka, Topeka RoadRunners
Dalton Hunter, Johnstown Tomahawks
Corbin Kaczperski, Lone Star Brahmas
Eamon McAdam, Austin Bruins
New York Rangers
Brogan Rafferty, Coulee Region Chill
Ottawa Senators
Todd Burgess, Fairbanks Ice Dogs
Jakov Novak, Janesville Jets
Ian Scheid, Austin Bruins
Nico Sturm, Austin Bruins
Philadelphia Flyers
Matej Tomek, Topeka RoadRunners
Pittsburgh Penguins
Ryan Ferland, New Jersey Titans
Jon Lizotte, Minot Minotauros
San Jose Sharks
Zach Frye, Wenatchee Wild
Jake Kupsky, Lone Star Brahmas
Mike Robinson, Springfield Jr. Blues
St. Louis Blues
Grant Frederic, Janesville Jets
Adam Roeder, Janesville Jets
Austin Rueschhoff, Austin Bruins
Tampa Bay Lightning
Peter Krieger, Aberdeen Wings
Kris Oldham, Kenai River Brown Bears
Toronto Maple Leafs
Matt Barry, Bismarck Bobcats
Eric Cooley, Amarillo Bulls
Brady Ferguson, Amarillo Bulls
Darion Hanson, Aston Rebels
Brennan Kapcheck, Aston Rebels
Vegas Golden Knights
Paul Cotter, Brookings Blizzard
Dawson DiPietro, Janesville Jets
Wyatt Ege, Fairbanks Ice Dogs
Brandon Kruse, Brookings Blizzard
Corey Schuenenman, Michigan Warriors
Washington Capitals
Kristofers Bindulis, Aston Rebels
Mitchell Gibson, Lone Star Brahmas
Benton Maass, Fairbanks Ice Dogs
Cooper Zech, Odessa Jackalopes
Winnipeg Jets
Croix Evingson, Shreveport Mudbugs