Minot forward Pavel makes NCAA DI commitment
June 29, 2018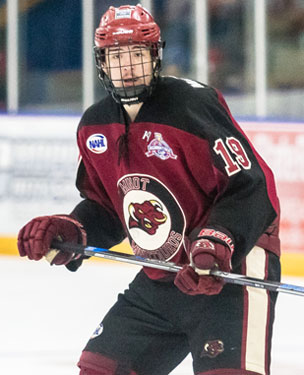 The Minot Minotauros, proud members of the North American Hockey League (NAHL), are pleased to announce that forward Ondrej Pavel has committed to play NCAA Division I hockey for the Minnesota State University-Mankato in the WCHA.
Pavel, 17, was the youngest player on the Tauros and scored perhaps the biggest goal in franchise history this spring netting the overtime-winner in Game 3 of the Robertson Cup Semi-Final to send the Tauros to the National Championship Game.
Overall in 60 combined regular season and playoff games Pavel had 10 goals and 14 assists. Pavel (6'2/200) becomes the 11th 2017-18 Tauro to make college hockey plans and ninth to go NCAA DI.
"MSU-Mankato the perfect place where I can earn my degree, and of course because of their great hockey program which is led by an amazing coaching staff and training staff," said Pavel. "I plan to study business because I always wanted a job where you work either with people or with numbers, ideally both."
As for hockey Pavel started the season in Minot shuffling in and out of the lineup as he struggled to find his game. Tauros Head Coach and General Manager Marty Murray explained, "After learning the ropes in the first half of the season, Ondrej was an absolute beast the second half of the season. His work ethic is outstanding and he always wants to get better. He took great pride in his role of being a shutdown centerman, and ended up scoring some huge goals for us down the stretch and into the playoffs."
Once comfortable Pavel was more than just a shutdown centerman, he also posted 14 points over the season's final 22 games while going +9 all while facing the opposition's top line. Aside from his playoff dominance if one weekend could sum up Pavel's time with the Tauros it is a series at home in mid-March against the Austin Bruins. Matched up against the Central Division's leading scorer and MVP Travis Kothenbeutel, Pavel kept him off the scoresheet at even strength and then set up an overtime game winner for Micheal Talbot.
Pavel believes his time in Minot helped prepare him for the next level. "Even though I was with the Tauros for just one year this organization had a great impact on my behavior both on and off the ice. I feel like I became more mature and my game has also improved. This season was truly special for me and it truly helped me to become a better person."
Pavel also was quick to thank others for helping him as well. "Thank you to my family that supported me tremendously on this way towards my dreams and of course all the coaches and teammates that helped me to become both a better person and a better hockey player."