Rebels announce relocation to Jamestown, New York
June 13, 2018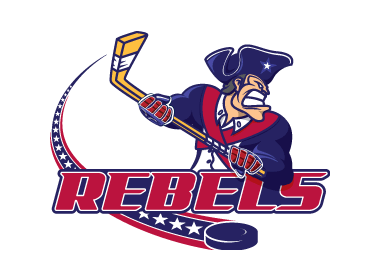 The North American Hockey League (NAHL) has announced that the Philadelphia Rebels have relocated their membership to Jamestown, New York, where they will continue to play in the NAHL's East Division during the 2018-19 season.
"With now having a nice balance of six teams in our East Division this was an important evolution and step for the Rebels organization to continue their tradition of providing an elite level junior hockey opportunity for players and exposure to NCAA and NHL scouts based in the Eastern part of the United States," said NAHL Commissioner and President Mark Frankenfeld.
The team will play out of the Northwest Arena as city and rink officials announced a new eight-year deal to bring the Rebels membership to Jamestown in a press conference on June 12th. The Rebels have spent the past three seasons playing in the Philadelphia, Pennsylvania area.
"Jamestown has all the necessities to operate a successful NAHL team, including a great arena, board, staff, fan base, and community support," said Rebels owner Ken Dennis. "We are in this for the players. We need people to come out and help and who want to be part of the community."
"What a great day, what an awesome time to be in Jamestown," said Jamestown Center City Development Corporation co-president David Leathers. "For the arena, we're extremely excited to announce the return of top-tier junior hockey to the Jamestown area and to the Northwest Arena."
The Rebels will be playing in the same league that was once occupied by the Jamestown Ironmen from 2011-13, and Rebels head coach Joe Coombs knows that the talent will be fun to watch from the first puck drop.
"For the casual fan it will be better, it will be quicker that's for sure. It will be a quicker game," said Coombs, who has spent the past five seasons coaching for the organization. "The true hockey fan will know the difference very quickly. We are excited about our new home and I think fans will really enjoy the product on the ice."
When looking back at some of the players that he has been fortunate to coach, Coombs mentioned Kristofers Binduls, who spent the 2015-16 season in the NAHL with Aston before heading to Lake Superior State University and then inking a deal with the Washington Capitals.
"We've been lucky the last few years to have some world-class players," Coombs said. "I don't know if it is every year that we get those type of players. I'd love to, that would be great."
Dennis said that the Rebels main camp will be held at the arena July 6, 7 and 8. He also said they are looking for local people to volunteer to be billet families to house players during the season.