Brookings forward Koviak makes NCAA commitment
June 12, 2018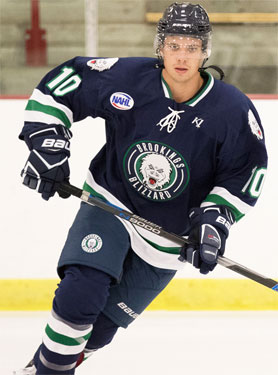 The Brookings Blizzard, proud members of the North American Hockey League (NAHL), are pleased to announce that forward Connor Koviak has committed to play NCAA Division III hockey for the University of Wisconsin-Eau Claire.
Koviak (5'10/170) played a year and a half with the Blizzard tallying 56 points in 98 games. That included 31 points (19 goals, 12 assists) for the 21-year-old native of Canton, Michigan, during the 2017-18 season.
"I'm excited to play for one of the top Division III Programs. I loved every second of my visit to campus, and I think it will be a great college experience. The coaching staff has had a lot of success, and everyone has had good things to say about the hockey program. I loved my time in Brookings, and I want to thank my billet parents Dan and Suzanne Stluka, and the coaching staff for helping me to achieve something I've been working hard for throughout my playing career," said Koviak.
"Connor is a player that takes pride in his work ethic for practices and games. He is a solid two-way player in both ends of the ice. He has great character that was liked by everyone," said Blizzard head coach Moe Mantha.