NAHL announces results of 2018 Draft
June 6, 2018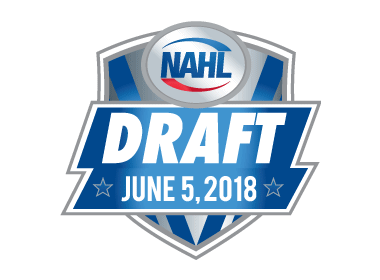 In what has become another part of the essential and important NAHL event structure, it was another banner day for hundreds of players and the 24 NAHL teams in the annual NAHL Draft, which was held on Tuesday, June 5th. The NAHL is pleased to announce the results of the 2018 Draft.
In total, 208 players were selected in the draft, which took just over three hours to complete.
Click here to watch an archive of the draft through
HockeyTV
"The Draft is always a great day for the league. There is a lot of hard work and effort by our coaches and their scouting staffs that go into what the draft is all about, and that is providing an opportunity for the next wave of NAHL players. We congratulate everyone who was selected and wish them continued success in their next steps toward playing in the NAHL," said NAHL Commissioner and President Mark Frankenfeld.
The first player taken in the draft was forward Steven Agriogianis, who was selected by the expansion Maryland Black Bears with their first ever draft pick. The native of East Hanover, New Jersey played for the Central Illinois Flying Aces in the USHL this past season. The first defenseman went off the board with the #3 overall pick as the Kenai River Brown Bears selected Jeremy Boucher, a native of Gloucester, Ontario. 16 goals were selected in the draft, which included the first goalie selected in the draft, Zach Stejskal, who was taken by the Wilkes-Barre/Scranton Knights with the 13th overall pick in Round 1. Like Agriogianis, Stejskal played for the Central Illinois Flying Aces in the USHL last season.
Breakdown of positions drafted:
Forwards: 125 (60%)
Defense: 67 (32%)
Goalies: 16 (8%)
Breakdown of teams/levels/leagues where players were selected from:
Canadian Junior: 55
High School/Prep: 49
18U: 31
16U: 26
Tier III Junior: 19
European Junior: 15
USHL: 12
NAHL: 1
Birth year breakdown:
1998: 45
1999: 70
2000: 61
2001: 32
Players not drafted or tendered by NAHL teams are still able to participate in each team's respective open tryout camps. Remaining tryout camps are listed
here
.
Each team's protected list now stands at 30 players. All rosters must be reduced to 25 players by September 1st and 23 players by October 1st.