Wilderness name Dave Boitz as new Head Coach
May 31, 2018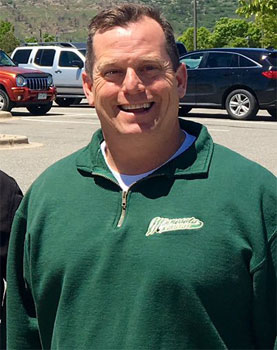 The Minnesota Wilderness, proud members of the North American Hockey League (NAHL), are pleased to announce that Dave Boitz has been named the team's new Head Coach, which will be in addition to his current role of General Manager.
Boitz has been with the Wilderness organization the past five seasons, helping the team to a Robertson Cup National Championship in 2015. Boitz takes over for Tim Madsen, who was recently named the Head Coach of St. Scholastica College, an NCAA Division III program in Duluth, Minnesota.
"Dave has been an integral part of our organization the past five seasons and he brings many years of coaching experience and success. I know Dave is very excited to get behind the bench again. Dave has always been focused on player development and being a valued member of the community," said Wilderness Owner and President Chris Trapp. "We would also like to thank Tim Madsen for his contributions to the organization over the last two seasons and wish him the best in his new coaching position in the NCAA."
Boitz is no stranger to coaching in the NAHL. He has spent nine seasons as either a head coach or general manager with the Alexandria Blizzard, North Iowa Outlaws, Alaska Avalanche, and Wilderness. He helped the North Iowa Outlaws to a division title and NAHL Organization of the Year during the 2007-08 season and during the recent 2017-18 season he was named the Central Division's General Manager of the Year with the Wilderness.
"I am excited to be back coaching again. I love being a part of the NAHL and the Wilderness organization. What I enjoy most is working with the players and helping them achieve their hockey and educational goals," said Boitz. "Coaching has always been a passion of mine and I am grateful to the Wilderness ownership group for trusting me to fill such an important role. Mr. and Mrs. Trapp and Mr. and Mrs. Dusek have been terrific to my family and me since the beginning and I look forward to exciting things in the future. A lot of the volunteers and staff have become very good friends of mine so to me the Wilderness organization really does feel like family."