Corpus Christi names Ryan Cruthers as new Head Coach
May 30, 2018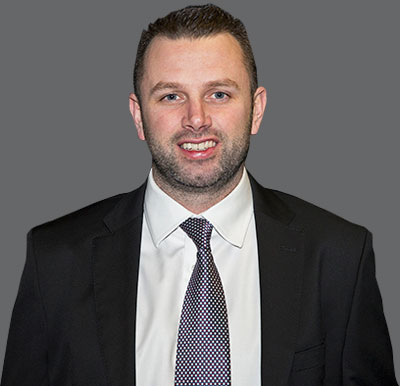 The Corpus Christi IceRays, proud members of the North American Hockey League (NAHL), have named Ryan Cruthers as the team's head coach, IceRays general manager Michael Wood announced today. Cruthers becomes the fifth head coach in junior franchise history.
"Ryan Cruthers is a terrific fit for our organization," said Wood. "He's been a leader at every step of his hockey career. His players will immediately see a coach who is devoted to helping them to be the best they can be both on and off the ice. I can't wait for him to get here and start building those relationships."
"I was excited when there was potential to be with Corpus Christi knowing how good the division is and how good the organization is," said Cruthers. "It just feels right. Overall excitement level is through the roof. This is where I feel most comfortable. It's nice to be surrounded by people that really care about the organization's success and have a great owner that supports the team. I couldn't be more excited about this opportunity."
Cruthers, 33, joins the IceRays after finishing the 2017-18 season with the Chicago Steel of the United States Hockey League (USHL), serving as Interim Head Coach and Assistant General Manager starting on January 2 and leading the Steel to the USHL postseason and a First Round series victory. The Farmingdale, N.Y. native previously spent nearly two seasons as the Head Coach and General Manager of the Charlotte Rush in the U.S. Premier Hockey League (USPHL), compiling a 66-7-3 record and leading the team to the 2017 USPHL Championship.
While playing professional hockey, Cruthers began his coaching career as an Assistant Coach for Alvernia University in 2013-14 before playing his final year of hockey as a Player-Assistant Coach for the Reading Royals (ECHL) during the 2014-15 season. He played eight years of professional hockey, including 32 games in the American Hockey League (AHL), four games in the Central Hockey League (CHL) and 429 in the ECHL. He was named captain of the Royals for two seasons and is the team's all-time leading scorer with 273 points (86 goals) through 278 games.
"The last 12 months have opened my eyes to a lot of things that I hadn't seen before. I think the biggest thing [I've learned] is to surround yourself with people that have a common goal, and I just felt from the start immediately, in speaking with everyone that's involved with Corpus Christi, their love for the team and their passion for success and player development. It's exactly what I strive for."
The foundation for his coaching and teaching philosophy came from two early stops in his hockey career. Before transferring to Robert Morris University, Cruthers spent two years at Army West Point, where the standard for accountability and putting in hard work was instilled. Following his collegiate career, he played for the Mississippi Sea Wolves (ECHL) in 2008-09, which helped him grow a love for community engagement and dealing with the hurdles of a non-traditional market.
"I think a lot of the things that were embedded in me [at West Point] I didn't see until years after I left – having a process, being prepared and being accountable – how important those things are and how easy life becomes when you do the hard work the right way. That's how I've built my teams.
"Being in Biloxi (Mississippi) and seeing a city that has a lot of similarities to Corpus Christi – a southern city that didn't have a practice rink and at times didn't have ice – helped me see what made us successful and what didn't and learn from those things. I think the nice thing about [Corpus Christi] is if we can get out in the community and show them how passionate we are about what we do to an already great fanbase, then once you get the city's support behind you, coming to the rink every day you have that family atmosphere. It's something you'll hear me talk a lot about, and that's family."
The IceRays finished the 2017-18 season with their second-straight postseason berth for the first time in junior franchise history, and Cruthers will look to continue where former head coach Brad Flynn left off. Many of their philosophies on the ice, in the locker room and away from the rink overlap including accountability, passion and connection with the community, and Cruthers looks to make a smooth transition while maintaining the same level of expectations built over the last two seasons.
"I know how important the community is, and I love being a part of a city and a culture that believes in the hockey teams. They're going to see a team that is very active in the community, that likes to be involved in everything going on outside of the hockey rink, and is a great representation of the city and the organization. On the ice, fans are going to see a passionate group of players that will never have a question as to our work ethic and how badly we want to win, and they'll see a team that's going to get better over the year. We're going to go through some things, but I think we'll build great fan support that will trust the process. If they look behind the bench, they're going to see a very engaged coaching staff and team, and that's a lot of the things that Brad had."
The IceRays continue off-season preparations for the 2018-19 season with the 2018 NAHL Draft on Tuesday, June 5. Cruthers will join Director of Scouting Mike Mondoux and Assistant Coach Ryan Anderson in helping to construct their full 30-man protected list through the draft heading toward 2018 IceRays Main Camp in July while making the move to Corpus Christi with his family.
In the meantime, Cruthers is excited to get start and has already been pouring over information.
"I'm just excited to get down there. I've been up all night looking at lines, players and getting ready for the draft. This just feels really right. I know we're going to go through some growing pains with being new...but my goal is to bring a Robertson Cup to Corpus Christi, develop our players and move them on. I hope it's long-lasting, I hope to build something big there, and I think we will."
The IceRays will formally introduce Cruthers at a public press conference in the coming weeks. Specific information on the press conference will be released at a later date.