Lone Star defenseman Mathews makes NCAA commitment
May 21, 2018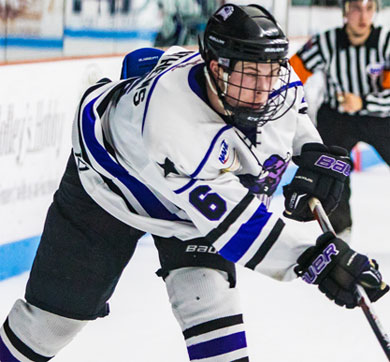 The Lone Star Brahmas of the North American Hockey League (NAHL) are pleased to announce veteran defenseman Wyatt Mathews has committed to play NCAA Division III hockey for Aurora University.
"It's definitely a rewarding feeling finishing my junior career with an NCAA commitment," Mathews said. "Growing up in Montana, I had the goal of playing college hockey and seeing it happen is a great feeling."
"Wyatt's going to be a great college hockey player," Assistant Coach Justin Hale added. "We're extremely happy for him. I think he found a really good fit as far as a college program, and he definitely has a bright future."
The Brahmas acquired Mathews in October from the Janesville Jets to bolster the blue line. He played 38 games for the purple and black. He played well in the defensive zone and never shied away from taking shots from the blue line.
"He was a steady defenseman for us and one of our top penalty killers," Hale said. "Wyatt is a great locker room guy who provided good leadership for us on the back end."
"I think I've developed a lot this year with the Brahmas," Mathews said. "The biggest thing I take away from playing for Coach Wildfong and Coach Hale is how much I've learned this season. They really helped me think about the game on another level."
He took his game to the next level in the postseason, playing some of his best hockey down the stretch. He got a taste of the NAHL South Division last year with the Wichita Falls Wildcats after his season in Montana concluded. Playing in his home state, Mathews racked up 15 goals and 57 assists in three seasons.
"I played in the NA3HL for half a season. The team in my hometown of Missoula had a team that I played two years for before an ownership change had the team renamed and put into a different league," Mathews said. "I also had two great coaches, Marcus Baxter and Joren Johnson, in Missoula who helped me develop a lot when I first began juniors. It took a lot of hard work developing in those leagues, especially being from Montana since it is a very non-traditional hockey market."
Mathews' NA3HL career included 32 games during the 2016-17 season with the Missoula Junior Bruins, where he averaged a point per game with 32 points during his time in the league.
It was only fitting that Mathews finished his junior hockey career in another untraditional hockey market – Texas. Mathews will head home for the summer and train for upcoming season before joining Brahmas alumnus Liam Stirtzinger at Aurora in the fall.
"I would like to thank my family for all of their support and sacrifices throughout the years. Without them I definitely would not have the opportunities I have now," Mathews said.
Though he is still undecided in the academic route, Mathews is considering engineering as a possible major.