Knights forward Carlson makes NCAA commitment
May 18, 2018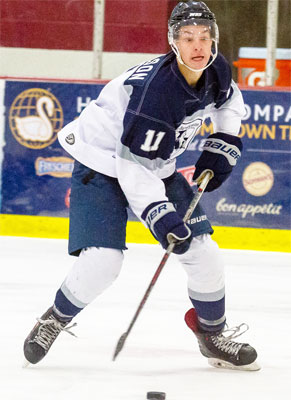 The Wilkes-Barre/Scranton Knights returned home from Minnesota this week and it marked an end to an era of sorts, as the team will see five 97-born players move onto college next season. All five have been instrumental to the program's growth in the NAHL since the team's arrival in 2015-16. One of the longest-tenured Knights among that group, and the most recent captain, Curtis Carlson, has announced he will attend Nichols College in the Commonwealth Coast Conference to play NCAA Division III hockey.
Carlson, who was briefly a member of the Knights inaugural 2015-16 NAHL roster, returned to the team full time in 2016-17 after developing in the NA3HL. He improved each year to become a centerpiece to a Knights team that just earned its first trip to a Robertson Cup Semifinals. Carlson's next step will be to join the Nichols Bison, a DIII school located in Massachusetts this fall. The Bison are fresh off an NCAA Quarterfinals finish, their fourth NCAA tournament berth in the last ten years.
"They're very family-oriented," said Carlson of his future home. "Through the recruiting process, they reached out to my mom as well as myself, and that really gave me the feeling that they're very family-oriented, and you know, that's a great fit for me, as I'm family-oriented as well."
The Bison are led by head coach Parker Burgess, a St. Thomas alum who has guided Nichols to a record of 50-10-8 in his first two seasons on the job. Carlson is excited to lend his talents to the program.
"I bring dynamic offense, and a lot of speed to the table-a fan favorite right? he said laughing. "I just bring a lot of offense and a lot of speed to the team. Hopefully, in a few years, I can bring leadership as well."
Leadership is a role Carlson has become familiar with this season, after rising to the captaincy in his second full season with the Knights at the NAHL level. He was voted captain for 2017-18 by his teammates and was joined by long-time Knights veteran Michael Morrissey (Colby College), and NAHL journeyman Mike Gelatt (Skidmore College) as assistants.
"Curtis is a lead-by-example guy," said Kowal. "He's a highly competitive player and someone who's committed to doing things the right way. He won a lot of respect in this locker room and from our staff with the amount of effort he puts into improving his game and the type of teammate he is. He's the guy that will do just about anything to help improve his team."
"It's helped me look at things from a different perspective," said Carlson of wearing the chief letter on his sweater this season. "You get a lot of different points of view from other people. Most importantly it's developed me into a better person, mainly for that same reason. Being the older guy that everyone can come talk to with their problems, whether its on the ice, at home, and whatnot. It made me grow up more off the ice."
On the ice, Carlson excelled in creating big plays in the Knights push to the Roberston Cup semifinals this year. He recorded a career-high 24 goals through the regular season and playoffs, to go along with 20 assists. His hockey IQ led him to be a fixture on both sides of special teams play, recording one short-handed goal and five power play tallies and four assists in 2017-18. His impressive play resulted in his naming to the NAHL's Top Prospects Tournament where he recorded two goals in two games with the East Division's team.
"With his experience, his nose for the puck, and his speed, we felt comfortable putting Curtis out there in all situations," said Kowal. "He's a versatile player who consistently delivered big plays in big moments for us and that's exactly what we want and expect from our veterans."
Playing 135 games in the North American Hockey League over the past three seasons has given Carlson plenty of opportunities to showcase his talent while building his game. He attributes this time to sharpening his focus.
"Playing at this level has prepared me by teaching me what you need to do to become an impact player in the North American Hockey League," he said. "The North American Hockey League is one of the best junior leagues in the country. It teaches you to show up every day and try to get better. If you're not getting better, there's always somebody else getting better that's trying to take your spot, whether it's in your locker room or in another team's locker room. Knowing that really helped me keep the right attitude and focus coming into work every day."
Carlson's competitiveness did not prohibit his ability to take in and appreciate the finer moments of his journey. Through his many games, he made his fair share of memories.
"I'll give you my two favorites," he said. "My first one was obviously winning the East Division and sweeping the Philly Rebels this year. We got swept by them the year before, so to return the favor was unbelievable. I know for a fact it was a great feeling the older guys, the guys that have been a year or two. That same feeling was one of the best feelings I've ever had playing junior hockey.
"The other I think would be all the road trips I've had with the guys, especially going to Alaska two years in a row. You kind of form together as a team in Alaska. You gel a little bit, whether it's on the ice, or at the hotel by the river in Kenai, or taking a walk in Fairbanks. It's just about how the guys gel and I felt guys really connected with each other, so that's I think a really cool second to go along with the first."
His fondness for his team extended to his head coach. In each of the past two seasons, Kowal was the head man from which Carlson absorbed what he felt were the most valuable lessons.
"TK has really made me the man I am today," he said. "Without him I don't think I'd be going to this school. He believed in me when nobody else did. He's been my mentor the last two and a quarter years here."
"Curtis Carlson is a great example of what we're here for, and what the NAHL is here for," said Kowal. "He was one of our original NAHL guys. He's a player who was given an opportunity to play high-level junior hockey. He worked for it, he earned his place here, and not only that, he became a great player at this level. We're happy we were a part of his journey, and we're proud of how far he's come. I wish him nothing but the best of luck."