Odessa forward Bride makes NCAA DI commitment
May 17, 2018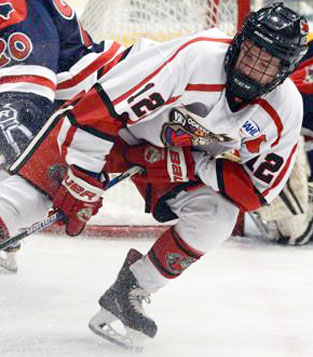 Following an outstanding season where he led the NAHL's Odessa Jackalopes in goals, forward Blake Bride has committed to play NCAA Division I hockey for the Air Force Academy, joining Zac Herrmann and linemates Matt Brown and Eric Huss as Division I commits.
"You can't go wrong with Air Force and everything they have to offer," says Bride. "It's a smaller school that offers amazing academics. They have an amazing hockey team too. Not only does the Air Force let me play Division 1 hockey, it also will set me up for an amazing future. The opportunities you get after graduating from the Air Force are like nothing else."
The native of Broomfield, Colorado began the season with the Minnesota Wilderness where he put up only one goal while assisting on five more. Following the NAHL Showcase in Blaine at the beginning of the season, Bride was acquired from Minnesota to play in Odessa. While with the Jacks, Bride scored 22 more times to lead the team, while also putting up 25 assists. Bride finished the season second on the Jackalopes roster with 53 points in 55 games.
"Blake absolutely earned everything he achieved this year," says associate head coach Cody Campbell. "We traded for him with the hopes that he would provide some offense this season and break out next season. He completely exceeded our expectations and that is largely impart to how hard he works. He became one of our most reliable forwards offensively and defensively. The Air Force Academy is getting a heck of a player and person, and we couldn't be happier for Blake and his family"
Bride, 20, made the Wilderness roster out of main camp. Bride's work ethic and mentality to lay it all on the line fits Air Force's scheme perfectly. Blake is one of those players that is winning to drive to the net and dive in front of an opponent's shot at all costs to prevent a shot on goal.
"I was always the smallest and lightest kid on every team I played for," says Bride. "I've had to prove myself my whole life in order to standout. For me, I learned to give it everything I got. I need to be the guy that will block a shot and take a hit to make a play. I just want to prove to everyone it's not about your height or weight, it's about how much work your willing to put into it and how much you love the game."
With the commitment, Bride becomes the fourth Jackalope to commit to Air Force, and he will become teammates with Pierce Pluemer and Jake Levin.