Bismarck forward Mahan makes NCAA commitment
May 17, 2018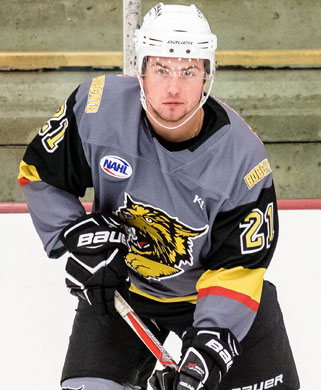 The Bismarck Bobcats of the North American Hockey League (NAHL) are pleased to announce that third-year veteran forward Michael Mahan has committed to play NCAA Division III hockey for St. John's University starting in the fall of 2018.
"It feels really good to know that I'll be playing college hockey next year," stated Mahan, who joined the Bobcats in a midseason trade during the 2016-17 campaign and finished his career in black and gold. "I'm super excited, both about the academics at St. John's and the hockey."
In 89 games as a Bobcat, Mahan contributed 14 goals and 19 assists–comprising the bulk of his 40 career NAHL points–with 10 of those 14 tallies coming via special teams.
The Scottsdale, Arizona, native is also a product of the NAPHL, having played parts of two seasons with the Arizona Bobcats organization.
"Mike's hard work and special teams ability made him a special player here for our program," lauded Bobcats head coach and general manager Layne Sedevie. "And as big of a contributor as he was on the ice, his value was just as big, if not bigger, off the ice as a character guy and a veteran presence."
Mahan will join former Bobcats Matt Perry (2013-15) and Cole Souto (2014-16) in Collegeville, Minn., with the Johnnies.
"I talked to both Matt and Cole on my campus visit; both are great guys and had nothing but good things to say about Bismarck and the Bobcats," noted Mahan, who played against Souto with the Minnesota Wilderness in 2015-16. "Ultimately, a lot of things played a role in my decision to go to St. John's but the most important thing for me was that's where I felt the most comfortable with both school and hockey."
Playing in the Minnesota Interscholastic Athletic Conference, St. John's is coached by 10th-year head coach Doug Schueller, who has compiled a 104-103-25 record with the Johnnies.
Mahan's choice now makes 12 current or former Bobcats who have committed to play NCAA hockey during the 2017-18 season, joining: Jared Resseguie (Denver), Tanner Vescio (Northern Michigan), Grant Johnson (Northern Michigan), Ryan Ullan (Northern Michigan), Adam Stacho (American International), Alex Trombley (Ohio State), Mitch Walinski (Air Force), Andrew Bellant (Michigan Tech), George Grannis (Clarkson), Tristan Ashbrook (RPI) and Tanner Breidenbach (Concordia).