Claws Up! Mudbugs win Robertson Cup National Championship
May 14, 2018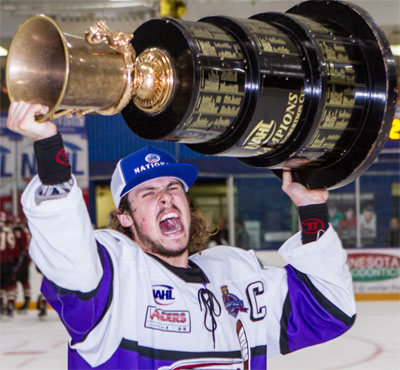 Just as they did in Game 2 of the Semi-Finals against Wilkes-Barre/Scranton, the Shreveport Mudbugs erased an early one-goal deficit to come from behind with one goal in the 2nd period and another in the 3rd period to defeat the Minot Minotauros 2-1 to win the 2018 NAHL Robertson Cup National Championship on Monday night in front of a packed house at Fogerty Arena in Blaine, MN.
The two teams played somewhat conservative during the first half of the 1st period. However, the Minot Minotauros were able to find the back of the net first as one of their textbook plays paid off thanks to a face-off win by Ondrej Pavel, which got the puck back to the point for Nolan Sawchuk. The All-Tournament defenseman from nearby Burnsville, MN, then fired a low wrist shot that went through traffic and found its way past Mudbugs goalie Jaxon Castor for a 1-0 Minotauros lead. That's the way the period would end, with the Minotauros outshooting the Mudbugs, 8-6.
Just like they have all tournament long, the Mudbugs came out firing in the 2nd period, outshooting the Minotauros 10-2 in the middle frame. Just over six minutes into the period, Shreveport found the equalizer as Brendan VanSweden carried the puck in the zone, curled at the blueline, and then sent a wrist shot to the net, which found its way though traffic and past Minot goalie Samu Lonkila, who was screened on the play.
Shreveport took their first lead of the game in the early stages of the 3rd period as All-Tournament defenseman Dominick Procopio wristed a shot from the point, which was deflected by Cole Quisenberry for a 2-1 Mudbugs lead. The rest of the period featured some outstanding goaltending from both Castor and Lonkila, who kept it a one-goal game until the very end. Despite several chances on goal by Minot, they could not find the equalizer as time wound down and the Mudbugs captured their first ever Robertson Cup National Championship in just their second season in the NAHL.
Castor, who was named the All-Tournament goaltender, as well as, the event's Most Valuable Player, stopped 15 of 16 shots in the win and allowed just two goals in three games during the 2018 Robertson Cup. Lonkila, who also received strong consideration for All-Tournament recognition, ended up with 23 saves in the final.
The Robertson Cup is awarded to the national playoff champion of the North American Hockey League. The oldest junior hockey trophy in the United States, the Robertson Cup is named in honor of Chuck Robertson, a pioneer of junior hockey in the NAHL and youth hockey in the state of Michigan. Robertson was the owner of the Paddock Pools Saints when they won a record seven straight championships from 1976-83.
2018 NAHL Robertson Cup All-Tournament Team
Forward: Ryan Burnett, Shreveport Mudbugs
Forward: Miroslav Mucha, Minot Mintauros
Forward: Brendan VanSweden, Shreveport Mudbugs
Defense: Nolan Sawchuk, Minot Minotauros
Defense: Dominck Procopio, Shreveport Mudbugs
Goaltender & MVP: Jaxon Castor, Shreveport Mudbugs