Mudbugs vs. Minotauros clash for Robertson Cup
May 14, 2018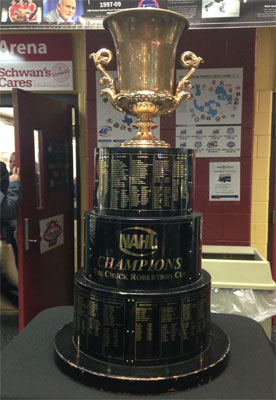 It all comes down to this… one game to decide the North American Hockey League (NAHL) Robertson Cup National Champion.
A total of 744 regular season and playoff games have been played since September 13th and that 745th game on Monday night will officially end the season and crown a National Champion.
It is the Minot Minotauros against the Shreveport Mudbugs at 7:00pm at Fogerty Arena in Blaine, Minnesota. Minot is looking to become the first team in NAHL history who was the lowest seed heading into the playoffs to then win the cup. Meanwhile, if the Mudbugs win, they would be the second consecutive #2 overall seed from the South Division to do so.
The winner will be just the 16th team in the 42-year history of the NAHL to hoist the Robertson Cup.
All games will be broadcasted live and in HD on
HockeyTV
Friday, May 11, Game 1's
#1 Fairbanks 5 vs. #4 Minot 2
#2 Shreveport 2 vs. #3 Wilkes-Barre/Scranton 0
Saturday, May 12, Game 2's
#1 Fairbanks 0 vs. #4 Minot 2
#2 Shreveport 2 vs. #3 Wilkes-Barre/Scranton 1 (Shreveport wins series, 2-0)
Sunday, May 13, Game 3
#1 Fairbanks 4 vs. #4 Minot 5 (OT) (Minot wins series, 2-1)
Monday, May 14
Robertson Cup National Championship Game: Shreveport vs. Minot, 7:00pm
Overtime Note: During the Robertson Cup Championship, if the score is tied after three periods of play the following shall take place: Teams shall return to their dressing room and the ice shall be resurfaced. A fifteen-minute intermission shall take place. A twenty-minute, sudden death, overtime period shall be played with 5 skaters a side. The game shall terminate upon a goal being scored and the Club scoring declared the winner. If no goal is scored, the same procedure as above shall be repeated until a winner has been determined.
The Robertson Cup is awarded to the national playoff champion of the NAHL. The oldest junior hockey trophy in the United States, the Robertson Cup is named in honor of Chuck Robertson, a pioneer of junior hockey in the NAHL and youth hockey in the state of Michigan. Robertson was the owner of the Paddock Pools Saints when they won a record seven straight championships from 1976-83.
One of the things the NAHL does better than any other junior league is seeing their players earn an NCAA opportunity while playing in the NAHL. To date, 242 NAHL players have already made NCAA commitments during the 2017-18 season. The NAHL's Robertson Cup Championship will play a big role in that success, with dozens of players earning an NCAA opportunity following their participation in the event.