Teams celebrated at Robertson Cup Dinner of Champions
May 10, 2018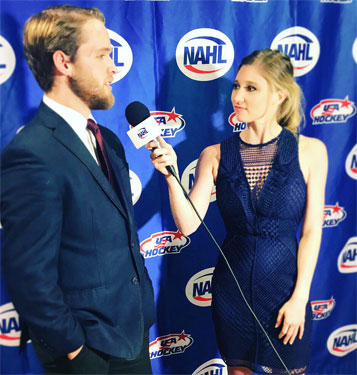 It was a night of celebration at the 2018 NAHL Robertson Cup Dinner of Champions at the ballroom at the Radisson Hotel in Roseville, Minnesota, as the NAHL rolled out the red carpet for the four teams.
The players and staff of the Fairbanks Ice Dogs, Shreveport Mudbugs, Wilkes-Barre/Scranton Knights, and Minot Minotauros, along with the NAHL staff were treated to a night of reflection and celebration on the eve of the 2018 Robertson Cup National Championship.
The players were provided about some facts about the 42-year-old Robertson Cup, which included some of the notable names on the trophy. It is the ultimate symbol of team accomplishment and each team walks together forever as the National Champions of the North American Hockey League. There are over 1,000 names on the cup ranging from owners, coaches, players and staff. The Robertson Cup also may be one of the heaviest Championship trophies in all of sports, as it weighs in at a robust 57.8 pounds.
The players were then greeted to a highlight video, which featured some of the most memorable plays from the season by each of the four teams, followed by the calls then sent all four to Minnesota for this year's tournament.
Following that was a speech from keynote speak and new Head Coach of St. Cloud State University, Brett Larson. Larson specifically spoke about former NAHL players, who made a significant impact during his time as an assistant coach at the University of Minnesota-Duluth, where he helped the Bulldogs win NCAA Division I National Championships in 2011 and again this past season in 2018.
"I remember some of the most impactful players on each of those Championship teams came from the North American Hockey League," said Larson. "I remember they each had a spirit of never giving up in their time leading up to becoming an NCAA Division I hockey player and helping us to win a National Championship. The NAHL is a league full of those players who have that little something extra that we coaches are looking for."
Larson continued… "this is an exciting time for all of you to be playing for a National Championship. While winning the trophy is great, I also want those who do not win to remember what that is like, because often times that's what it takes to win it eventually. I remember when we lost the National Championship to Denver in 2017 and I think that experience got us over the hump in 2018. The best advice I ever got during that experience was to tell our players not to go out there and try and play perfect. Just go and play your game and have fun. If you go out there and try and play the perfect hockey game, you won't because you are doing something that if different that you normally do," said Larson.
The dinner was then concluded by a speech from NAHL Commissioner and President Mark Frankenfeld, who congratulated and thanked the four team's owners and coaches. "Players, maybe one day you will look back on all this and truly appreciate the sacrifices that each of these owners and coaching staff's has done for you. They have a passion like you do and your success is something that continues to drive them each and every day," said Frankenfeld.
"Today is a gift for all of your efforts on and off the ice leading up to this event. The next few days will happen fast and you will not get a second chance, but you will have eternity to think about what you could have done with it," said Frankenfeld. "Take advantage of this opportunity, be ready, don't hold anything back, leave it all on the ice. Thank you and Good luck to each and every one of you."