Odessa forward Huss makes NCAA DI commitment
May 8, 2018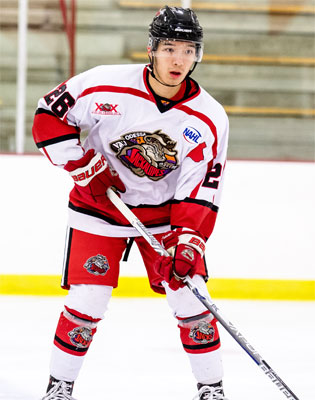 The Odessa Jackalopes of the North American Hockey League (NAHL) are pleased to announce that forward Eric Huss has committed to play NCAA Division I hockey for Army, a member of Atlantic Hockey.
The 19-year-old native of Dallas, Texas picked up six goals and 16 assists for 22 points during the 2017-18 season. Huss had some milestone goals for Odessa this year, including the first goal of the season and the goal to start the teddy bear toss in December.
"For me, education is huge and West Point's education, along with their hockey program, is phenomenal," said Huss. "Their facilities are some of the best in the world, and for me, it was just a great fit."
"Eric kept getting better all year long," says head coach Greg Gatto. "He wasn't drafted or tendered, so he had a lot to work for. He made our team out of camp because he wanted it and he was willing to work for it. He impressed everybody involved."
Huss (5'11/180) joined the Jackalopes out of main camp. The first-year forward worked hard this year, but found himself in and out of the lineup throughout November. He worked his way from a fourth line grinder to a first-line worker throughout the course of the season. By the end of the season, he had been named to the NAHL South Division All-Rookie Team.
"Growing up, my parents always emphasized hard work," explains Huss. "For me, I learned a lot from that. I've always had a chip on my shoulder, whether it was being un-drafted this year or being undersized when I was younger. Facing those obstacles instilled the value of work ethic."
Huss still has two more years of junior hockey eligibility before aging out.
With the commitment, Huss is the fourth Jackalopes player from the 2017-18 team to make an NCAA commitment.