Chippewa Steel name Al Rooney as Head Coach/GM
May 7, 2018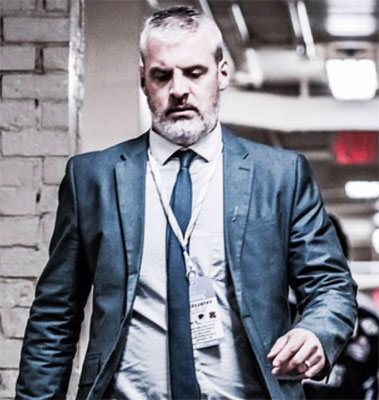 The Chippewa Steel, proud members of the North American Hockey League (NAHL), are excited to announce that they have hired Al Rooney as the first head coach and general manager in the organizations history. Rooney will take over the Steel (formerly the Coulee Region Chill) as they were recently purchased and relocated to Chippewa Falls, Wisconsin.
Rooney has spent the last couple seasons behind the bench in the NAHL. During the 2016-17 season as an assistant coach with the Lone Star Brahamas where they won the Robertson cup, and then most recently this past season with the Austin Bruins as an Associate Head Coach.
Prior to that Rooney was a head coach in the NA3HL for the Texas Brahmas during the 2014-15 and 2015-16 seasons.
Rooney reflected on his previous experiences and stated, "The past two seasons I've been fortunate enough to work for two of the top organizations in the league alongside two of the best coaches in the league and we've experienced a great deal of success together. With that said, I am most comfortable as a Head Coach, so I am excited to get back to being the guy who can lead the way and test myself in building a team to compete against some of the best in the country. The NAHL is a fantastic league with phenomenal coaches and players throughout so I am anxious to begin the challenge."
In addition, Rooney added the following in regards to taking over as the Steel's first head coach, "I'm grateful, humbled and excited for the opportunity provided to me by the Black family to be the first Head Coach of the Chippewa Steel. To have the chance to not only build a roster that can compete and win on the ice, but also be in a position to establish a foundation for the culture of the organization moving forward is a dream come true quite frankly. From everything I've heard so far, the community is real excited and behind the team so it should be a great all around experience for both the organization as well as the fans and people of the area."
"We're very excited and fortunate to have Al come on board as our Head Coach/GM," said Steel owner Steve Black. "His playing experience along with his head coaching and recent NAHL stops in Lone Star and Austin are a huge plus for us. We have three goals that we have always stated with the Steel in past years, to win hockey games, to advance players to the next level and to be valued members within the community; we are confident Al will provide all that."
In addition to owning the Chippewa Steel, Black is also owner of the New Ulm Steel in the NA3HL.