Saturday Scores: Dogs have their day and win Midwest playoff title
May 6, 2018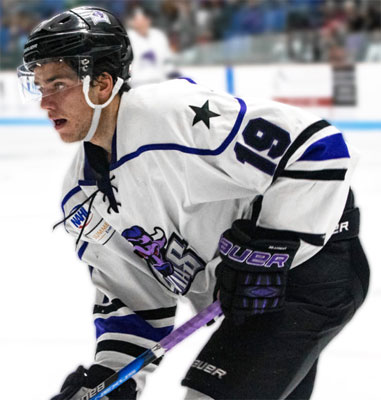 Midwest Division Finals, Game 5: Fairbanks 1 @ Janesville 0 (Fairbanks wins series, 3-2)
– The Ice Dogs earned another trip to the Robertson Cup Championship by winning their second straight must-win game on the road as the shutout the Janesville Jets in the 5th and deciding game of the Midwest Division Finals by a score of 1-0. Josh Benson stopped all 18 shots that came his way for his first shutout of the playoffs. The Ice Dogs defense was the story in Games 4 and 5, as they allowed just 38 shots in the two games. The lone goal of the night came early in the 2nd period as a shot from the point by John Stampohar was redirected in front by Connor Chilton in what would stand as the series winner. Garrett Nieto would shut the door the rest of the way for the Jets, making 27 saves in the loss. The win advances the Ice Dogs to the Robertson Cup Championship, where they will be looking for their third title in the last five year and fourth overall. Fairbanks will be the #1 seed at the event and will face the Minot Minotauros in the Semi-Finals.
Boxscore
South Division Finals, Game 4: Shreveport 1 @ Lone Star 3 (Series tied 2-2)
– Brahmas goalie Mitchell Gibson made 21 saves to help his club win their second straight game against the Mudbugs, forcing the South Division Finals to a 5th and deciding game thanks to a 3-1 win on home ice in Game 4 on Saturday. The Brahmas jumped out to a 1-0 lead midway through the opening period as Owen Farris redirected a shot from the point from Connor Stuart, which trickled past Mudbugs goalie Jaxon Castor. In the 2nd period, the Brahmas pushed the lead to 2-0 as a nice individual effort from Jon Russell netted the forward his first goal of the playoffs. In the 3rd period, a one-timer from Brahmas forward Ture Linden made it 3-0. The Mudbugs got on the board late in the 3rd period on a goal from Brendan VanSweden, but that would be all Gibson and the Brahmas would allow. Castor was pulled after the second goal by Russell, making 10 saves. Gustavs Grigals came in and allowed one goal on six shots. The win by the Brahmas sets up a winner-take-all Game 5 in Shreveport on Sunday, with the winner advancing to the Robertson Cup where they will be the #2 seed.
Boxscore