Knights claim East Division title and punch Robertson Cup ticket
May 1, 2018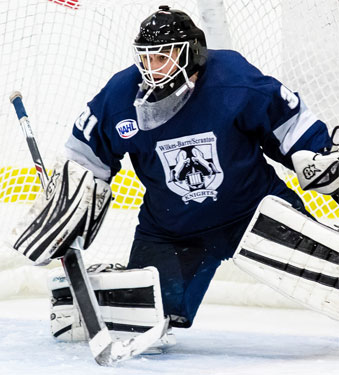 East Division Finals, Game 3: Philadelphia 1 @ Wilkes-Barre/Scranton 2 (WBS Knights win series, 3-0) - The Wilkes-Barre/Scranton Knights defeated the visiting Philadelphia Rebels 2-1 in Game 3 on Monday to complete a three-game sweep of the best-of-five Robertson Cup East Division Finals. With the win, the Knights advance to the 2018 NAHL Robertson Cup Championships at Fogerty Arena in Blaine, Minnesota from May 11-14. Despite being almost out shot two-to-one, the Knights were able to get timely goals and some timely saves from goaltender Christian Stoever to win a very close and well played game by both teams.
The Knights would take a 1-0 lead with 4:28 left in the first period on Tyrone Bronte's third goal of the playoffs. Adrian Danchenko skated to the top of the near side faceoff circle with the puck on his backhand. He would turn and pass the biscuit to Bronte who was falling down and the Knights forwarded backhanded a shot up high and past goaltender Ryan Keane to give the Knights the lead.
The Rebels would tie it with 6:24 left in the 2nd period on Carson Moniz's second goal of the playoffs. Knights defensemen Joseph Verkerke sent the puck around the end boards where it was picked up by Brandon Stanley at the top of the far side faceoff circle. Stanley passed it down low to Nico Appendino who found Moniz skating towards the slot, and the Rebels defensemen took a wrist shot that beat Stoever through a screen to even the score.
With time running out in the middle period, Matt Kidney would score the ultimate game-winner. Verkerke would skate along the far side boards through the neutral zone and dump the puck into the near side corner where it was picked up Jack Olmstead. The Knights forward would skate up along the boards and towards the top of the slot. Olmstead took a backhanded shot that was blocked out front but the rebound came right out to Kidney who knocked in the loose puck past Keane to give the Knights a 2-1 lead with just :15 seconds remaining in the second period.
Each team had chances in the third but Stoever and Keane made several tough saves to keep the score intact. Stoever turned aside 39 of 40 shots for his 5th straight win, while Keane finished the game stopping 27 of 29 shots.