Jets soar to series lead with overtime win in Game 3
April 30, 2018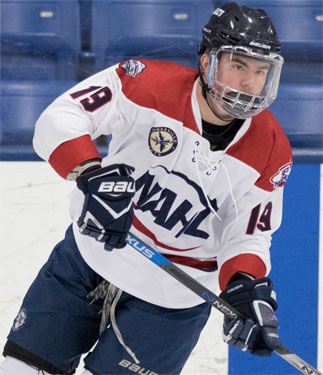 Midwest Division Finals, Game 3: Janesville 3 @ Fairbanks 2 (Janesville leads series, 2-1) – The Janesville Jets rallied from a two-goal deficit with two goals in the 3rd period, both from forward Sam Renlund, and then got the winner in overtime from Simon Sagissor to beat the Fairbanks Ice Dogs 3-2 in Sunday's Game 3 of the Midwest Division Finals in Fairbanks.
Jax Murray gave the Ice Dogs a 1-0 lead in the first period when he roofed a backhanded shot into the top corner past Janesville goaltender Daniel Lebedeff. Daniel Haider made it 2-0 in the second, finishing off a pass from Hunter Wendt after Wendt picked Jets defenseman John Pesek's pocket as Pesek led a breakout out of Janesville's zone.
Renlund then put on a one-man show early in the 3rd period as he scored his 6th and 7th goals of the playoffs just over two minutes apart to tie the game at 2-2.
With just under six minutes remaining in the overtime, Janesville forward Simon Sagissor completed an incredible play to beat Fairbanks goaltender Josh Benson with 5:58 left in the extra frame. Sagissor came up with the puck at the blue line and took a couple strides toward Fairbanks' net before passing to Jakov Novak in the middle of the slot. Novak, who led the North American Hockey League with 73 points during the regular season, kicked the pass — which was deflected — out of midair with the outside of his skate. The puck never touched the ice before returning to Sagissor's stick. The Janesville forward launched a shot past Fairbanks goalie Josh Benson, ending the game and giving the Jets a 2-1 series lead in the best-of-five Midwest Division Finals.
Daniel Lebedeff got the start for the Jets and made the most of it with 31 saves. His counterpart, Josh Benson, took his second loss of the series with 22 saves.
The series now shifts to Janesville where the Jets will have a chance to win the series in Friday's Game 4.