Division Finals begin with Knights win over Rebels
April 26, 2018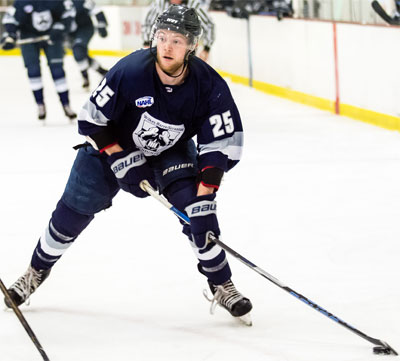 East Division Finals, Game 1: Wilkes-Barre/Scranton 4 @ Philadelphia 1 – The Wilkes-Barre/Scranton Knights picked up right where they left off from the Division Semi-Finals, riding the hot goaltending of Christian Stoever to a 4-1 win in Game 1 of the East Division Finals on Thursday night over the Philadelphia Rebels.
It was a dominant performance from start to finish for the Knights as they outshot the Rebels 34- 26 and were bolstered by a fast start thanks to a goal less than four minutes into the game from Curtis Carlson, who was the beneficiary of some sustained pressure and excellent forechecking for the Knights. Carlson picked up a shot of the end boards and deked Rebels goalie Ryan Keane down low for a 1-0 lead. Just over four minutes later, the Knights won an offensive zone face-off back to defenseman Thomas Farrell, who fired a wrist shot through traffic and through the legs of Keane for a 2-0 lead.
The Knights kept their foot on the gas in the 2nd period as they took advantage of a turnover at the blueline as Jack Olmstead found Matthew Kidney behind the defense, who then lifted the puck past Keane for a 3-0 lead. That goal would end Keane's night, but just over five minutes later, the Knights would score their 4th goal of the evening, this time courtesy of a power play tally from Reed Robinson.
The Rebels would finally solve Stoever midway through the 3rd period on a goal from Eric Olson, but it would be all Stoever would allow, making 25 saves on the night. Keane ended up with 17 saves in the loss and Eli Billing stopped 13 of 14 shots in the relief appearance.
Game 2 is Saturday night in Philadelphia.