NAHL Weekend Preview: Division Semi-Finals, continued
April 20, 2018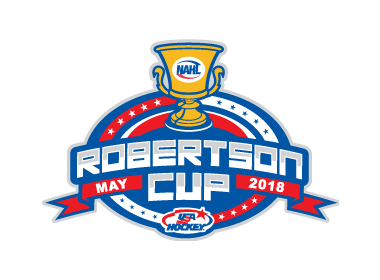 Last weekend and earlier this week saw the beginning of the Robertson Cup Playoffs and the Divisional Semi-Final round. All 16 teams are still alive in the chase and by Monday night, April 23rd we will know the eight teams that are headed to the Division Finals and that much closer to the Robertson Cup National Championship.
As a reminder, the Division Semi-Finals and Finals are a best of five series. The first team to win three games in a series will advance to the next round.
The 2018 NAHL Robertson Cup National Championship will feature the four divisional playoff winners and will take place from May 11-14 at Fogerty Arena in Blaine, Minnesota. Clubs will be seeded 1-4 based upon their finish in the NAHL regular-season standings.
The game schedule for the Robertson Cup will be as follows: The #1 Seed will face the #4 seed in a best of three series. The #2 seed will face the #3 seed in a best of three series. The two series winners will advance on to a one game playoff to determine the Robertson Cup Champion.
Friday, May 11: Game 1's, 4:30pm and 7:30pm
Saturday, May 12: Game 2's, 4:30pm and 7:30pm
Sunday, May 13: Game 3's (*if necessary), 3pm and 6pm
Monday, May 14: Robertson Cup National Championship Game, 7pm
Central Division Semi-Finals: #1 Aberdeen Wings vs. #4 Minot Minotauros (Series tied 1-1)
Game 1: Minot 0 @ Aberdeen 6
Game 2: Minot 2 @ Aberdeen 0
Game 3: Friday, April 20 @ Minot, 7:35pm
Game 4: Saturday, April 21 @ Minot, 7:35pm
Game 5: Monday, April 23 @ Aberdeen, 7:15pm*
Central Division Semi-Finals: #2 Austin Bruins vs. #3 Minnesota Wilderness (Austin leads series, 2-0)
Game 1: MN Wilderness 1 @ Austin 2
Game 2: MN Wilderness 1 @ Austin 3
Game 3: Friday, April 20 @ Wilderness, 7:05pm
Game 4: Saturday, April 21 @ Wilderness, 7:05pm*
Game 5: Monday, April 23 @ Austin, 7:05pm*
East Division Semi-Finals: #1 Philadelphia Rebels vs. #4 Northeast Generals (Series tied 2-2)
Game 1: Northeast 3 @ Philadelphia 0
Game 2: Northeast 1 @ Philadelphia 5
Game 3: Philadelphia 1 @ Northeast 3
Game 4: Philadelphia 4 @ Northeast 3 (3OT)
Game 5: Saturday, April 21 @ Philadelphia, 8:05pm
East Division Semi-Finals: #2 New Jersey Titans vs. #3 Wilkes-Barre/Scranton Knights (Series tied 1-1)
Game 1: Wilkes-Barre/Scranton 2 @ New Jersey 5
Game 2: Wilkes-Barre/Scranton 5 @ New Jersey 1
Game 3: Friday, April 20 @ Wilkes-Barre/Scranton, 5:00pm
Game 4: Saturday, April 21 @ Wilkes-Barre/Scranton, 6:00pm
Game 5: Sunday, April 22 @ New Jersey, 5:00pm*
Midwest Division Semi-Finals: #1 Fairbanks Ice Dogs vs. #4 Minnesota Magicians (Fairbanks leads 2-0)
Game 1: MN Magicians 2 @ Fairbanks 3
Game 2: MN Magicians 2 @ Fairbanks 4
Game 3: Friday, April 20 @ Minnesota, 7:00pm
Game 4: Saturday, April 21 @ Minnesota, 7:00pm*
Game 5: Sunday, April 22 @ Minnesota, 7:00pm*
Midwest Division Semi-Finals: #2 Janesville Jets vs. #3 Springfield Jr. Blues (Janesville leads 2-0)
Game 1: Springfield 0 @ Janesville 3
Game 2: Springfield 2 @ Janesville 3
Game 3: Friday, April 20 @ Springfield, 7:05pm
Game 4: Saturday, April 21 @ Springfield, 6:05pm*
Game 5: Monday, April 23 @ Janesville, 6:00pm*
South Division Semi-Finals: #1 Shreveport Mudbugs vs. #4 Corpus Christi IceRays (Shreveport leads 2-1)
Game 1: Corpus Christi 2 @ Shreveport 4
Game 2: Corpus Christi 2 @ Shreveport 3
Game 3: Shreveport 1 @ Corpus Christi 5
Game 4: Friday, April 20 @ Corpus Christi, 6:30pm
Game 5: Sunday, April 22 @ Shreveport, 7:11pm*
South Division Semi-Finals: #2 Lone Star Brahmas vs. #3 Odessa Jackalopes (Lone Star leads 2-0)
Game 1: Odessa 1 @ Lone Star 3
Game 2: Odessa 1 @ Lone Star 2
Game 3: Friday, April 20 @ Odessa, 7:11pm
Game 4: Saturday, April 21 @ Odessa, 7:11pm*
Game 5: Monday, April 23 @ Lone Star, 7:00pm*