Generals top Rebels in Game 3 to take 2-1 lead in series
April 19, 2018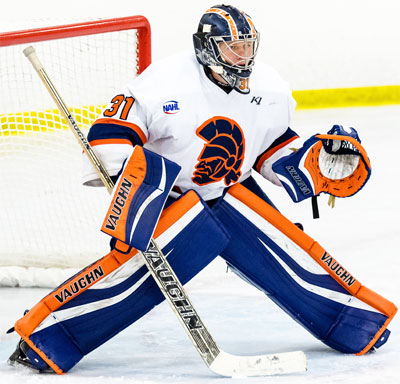 East Division Semi-Finals, Game 3: Philadelphia 1 @ Northeast 3 (Northeast leads series, 2-1) - The Northeast Generals defeated the visiting Philadelphia Rebels 3-1 on Wednesday night to take a two games to one lead in this best-of-five Robertson Cup Divisional semi-final series.The Generals scored two goals in the 1st period and rode the coattails of a 35-save performance by goaltender David Fessenden, who made several grade A saves to keep the Generals in the game. Northeast got on the board first just 3:55 into the opening period on Brady Gaudette's first goal of the playoffs. The Generals would then make it 2-0 with 5:09 remaining in the first period. Colin McCabe would pick up the loose puck along the far side boards and skate back into his own zone and then head up along the near side boards. After gaining the line, he sent a seem pass over to Brendan White on his left, and White took a wrist shot that beat Keane blocker side to double the Generals lead.
The Rebels would cut the Generals lead in half just 2:08 into the second period. Ryan Patrick would pick up the loose puck along the far side boards and backhand it over to Jensen Zerban on his left. As Zerban entered the Generals zone, he took a low, far-side shot that Fessenden had to make a pad save but the rebound came right out to Aaron Maguyon who tucked the loose puck into the back of the net for his first goal in the series.
In the 3rd period, after receiving a return pass from Justin Jallen, Matt Demelis would take a long side shot that was saved by Ryan Keane but the rebound came right out to McCabe who tucked in the rebound to make it a 3-1 game and secure the win for the Generals
Keane stopped 26 of 29 shots while Fessenden stopped 35 of 36. The two teams will met again in Game 4 Thursday night at 7:00pm with the chance for the Generals to close out the series.