How the NAHL launched Cooper and Maroon to the NHL
April 17, 2018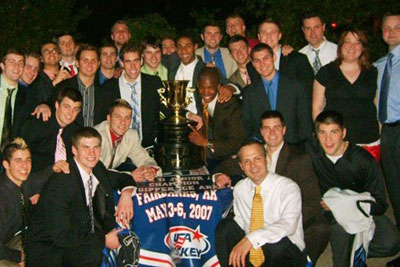 By Joe Smith, The Athletic
New Jersey Devils forward Patrick Maroon will never forget the amount of dirt and mud on the floor of the tight dressing room at the Four States Fairgrounds.
The 3,500-capacity barn — which Maroon dubbed an "aluminum can" — was home of the Texarkana Bandits, a North American Hockey League (NAHL) team he played for in 2005. It was also home to rodeos, fairs and, sometimes, critters like cats and mice.
The expansion team had to be creative in selling hockey in a football hotbed, so they hosted "Harley Night" and "Nascar Night." Lightning coach Jon Cooper was then the Bandits' coach, general manager and top pitchman.
"So many gimmick nights," Cooper said. "Whether it was St. Patrick's Day, Valentine's Day or Christmas, we had a jersey for everyone and would just sell them.
"I'm telling you, it was a grind."
Texarkana was also a turning point for both Maroon, 29, and Cooper, 50. Cooper, who left his law practice in Michigan a couple years earlier, took a chance on Maroon, then a skilled, but chubby roller hockey player from St. Louis who had never advanced past double-A midget.
The coach was rewarded with the first of back-to-back Robertson Cup Championships the following year, when the Bandits moved to St. Louis. Maroon was his best player and the NAHL's MVP.
So as Cooper's Lightning faced Maroon's Devils in Monday's Game 3 of the first-round of the Stanley Cup playoffs, they admit they might not be here on hockey's biggest stage had it not been for their time in Texarkana.
"We were both pretty wet behind the ears in everything we were doing," Cooper said. "Ultimately, when he played for me, he ended up being our best player, we won a championship together. And then we got our feet starting to get in a door — me as a coach, he as a player. And it probably never would have happened had he not played for me.
"Had we not found each other, that may not have happened for either one of us."
Kelly Chase, 50, has known Cooper since the two were teenagers, having been friends with the Lightning coach's Notre Dame classmate, former Leafs star Wendel Clark.
So when Chase, a retired NHL forward, joined a group that bought a junior team, his first call was to Cooper, a rising star midget major hockey coach in Michigan.
But getting Cooper to leave law and come down to Texarkana — on the border of Arkansas and Texas — to build an expansion team from scratch turned into a hard sell at first.
"I joked, 'You're just fixing parking tickets now as an attorney. Why don't you make an impact on hockey? Because that's what you loved doing.' And he did. And I'm grateful that he did," Chase said.
Cooper said this was his fork in the road. He had watched his work week split go from 60-70 hours as a lawyer, 10-15 hours as a coach to the complete opposite in just two years. Coaching became his passion.
And Chase offered Cooper a chance to make a living doing it.
Cooper earned every penny.
The Bandits were a five-to-six person enterprise, so there were very few tasks that Cooper didn't do.
He'd join others in staying up all night spraying water every hour on the ice until it froze, then paint the lines and put up the dasher boards on the rink. Cooper would sell tickets and sponsorships, even help designing the logo.
"When I say he worked his way up," said Kim Cannon, the Bandits' director of team operations. "He worked."
Playing at a fairgrounds, the Bandits didn't always have access to the ice. So Cooper would often pack a half dozen players in his Suburban, as well as the equipment, and make the 120-mile drive, each way, to Little Rock, Arkansas, for practice.
"Always our favorite part was we'd hit up Taco Bell on the way back," Cooper said, laughing.
They scrambled to market the team, needing every promotion to make ends meet. Cooper laughs recalling "Kids Day," where they had a 10:30 a.m. weekday game where they sold 3,000, $5 tickets to nearby schools.
"Literally the place was screaming kids," Cooper said. "And they didn't know what they were screaming at."
It turned into one of the more physical games of the year, with several scrums and fights. Cooper was mortified this scene would scare the children.
"But the kids were jumping on the glass, it was unbelievable," Cooper said. "I kind of knew then what kind of team we had to field if we wanted to get more fans in the building. Thanks to the kids."
The Bandits built a fanbase, but they needed to build a better roster. They needed a star, someone to lead the way.
And, unexpectedly, that's where Maroon came in.