Knights and Rebels even East series with wins on Sunday
April 15, 2018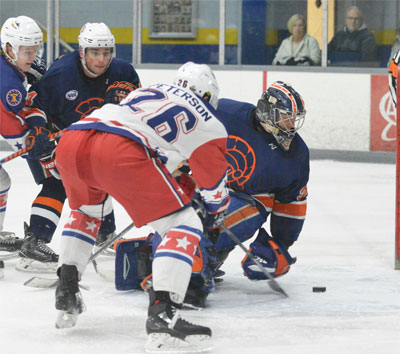 East Division Semi-Finals, Game 2: Wilkes-Barre/Scranton 5 @ New Jersey 1 (Series tied 1-1)
– A four-goal 2nd period propelled the Wilkes-Barre/Scranton Knights to a 5-1 road win in New Jersey in Game 2 on their East Division Semi-Final series, which now stands even at 1-1. It was the Titans who got on the board first in the opening period thanks to a goal from Hunter Alden. However, the Knights exploded for four goals in the 2nd period to break the game wide open as Gabe Temple, Tomas Koblizek, Thomas Farrell and Tyrone Bronte all lit the lamp. Justin Engelkes would score on a breakaway midway through the 3rd period to complete the scoring for the Knights. Christian Stoever would pick up the win in goal, making 29 saves, while Brandon Perrone took the loss, making 46 saves.
Boxscore
East Division Semi-Finals, Game 2: Northeast 1 @ Philadelphia 5 (Series tied 1-1)
- Forward Konur Peterson scored two goals to help propel the Rebels to a 5-1 win over the visiting Northeast Generals to even the East Divisional Semi-Final series at 1-1. The Rebels would take an early 1-0 lead on Peterson's first goal of the game. However, the Generals would tie it just 4:13 later as Matt Demelis would deke around Rebels goalie Ryan Keane's glove side and backhanded the biscuit into the back of the net to make it a 1-1 game. The Rebels regained the one-goal lead as Kolby Vegara took a snapshot that was saved by David Fessenden but the rebound came out to Jensen Zerban who was to the right of Fessenden and Zerban drilled it past the fallen Generals netminder to put the Rebels back on top with 7:26 left in the first period. Thirty-one seconds later Peterson would give the Rebels a two-goal lead. Eric Olson would make it 4-1 Rebels with seventeen seconds remaining in the first. Brandon Stanley would finish the scoring just twenty-six seconds into the second period. Keane stopped 24 of 25 shots in the win, while Fessenden and Marko Sturma combined to turn aside 22 of 27.
Boxscore