How Connor Hellebuyck went from unknown NAHL invite to the Stanley Cup playoffs
April 11, 2018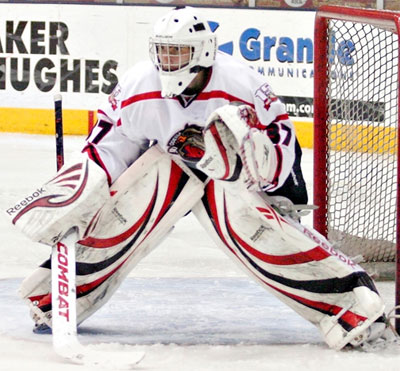 By Pierre LeBrun, The Athletic
Connor Hellebuyck is a long way from Odessa, Texas.
In his hockey career, however, he's not that far removed.
It was just six and a half years ago that a then 18-year-old Michigan kid showed up as a training camp invite for the Odessa Jackalopes of the North American Hockey League (NAHL) junior circuit.
"We had like eight goalies at tryouts, no one knew anything about him," Joe Clark, the former GM and goalie coach of the Jackalopes, recalled in an interview with The Athletic. "Connor stood out. He made the team and he was a no-brainer for us as a staff. But he really had no resume whatsoever before that.''
Fresh out of high school hockey in his native Commerce, Mich., Hellebuyck soaked it all in in Odessa and never looked back. He put up a .930 save percentage in 53 games in 2011-12 for the Jackalopes.
"He's one of the best stories you could ever come up with," said Clark, now a scout with the New York Islanders. "Connor was on no one's radar. He was as much as an unknown as you can get. No one ever heard of him. No one had ever really seen him.''
But a relationship was born right then and there that still exists today.
"Working with him, he was very grateful. Just a good kid," said Clark. "He was very respectful. Every ice session we had, every single time he would say thank you. That stuck with me.''
Without prompting on Tuesday after the Jets practiced on the eve of their playoff opener with the Minnesota Wild, Hellebuyck brought up his old Odessa goalie coach's name in a scrum with media when asked about his calm demeanour.
"I had a coach, Joe Clark, back in the day; he really helped me with that," said Hellebuyck. "In practice, I was a bit of a snap show. But when I got to the game I was calm and relaxed. I guess that's kind of watching yourself over the years. You kind of know what to expect out of yourself.''
To this day, Clark and Hellebuyck have kept in touch, his old Odessa goalie coach just one text message away when things get rocky.