NAHL Alumni Update: Frozen Four
April 5, 2018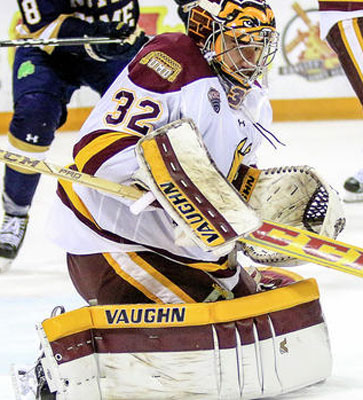 The NCAA Men's Division I Frozen Four is finally here. The semi-finals begin on Thursday, April 5 when Ohio State takes on Minnesota Duluth, followed by Michigan playing Notre Dame. The championship game is set for Saturday, April 7. The Frozen Four takes place at the Xcel Energy Center in St. Paul, Minnesota.
A total of 21 NAHL alumni will be taking part in the Frozen Four. All 16 teams that began the tournament two weeks ago had at least one NAHL alumni on their roster. In total, 116 NAHL alumni were on the 16 rosters of teams that began the event.
The only other junior league in North America with more alumni playing in the NCAA Division I Championship Tournament than the NAHL is the USHL. In addition, 25% of freshmen playing NCAA Division I hockey are alumni of the NAHL.
NAHL alumni breakdown of Froze Four teams:
Minnesota-Duluth: 9
Ohio State: 6
Michigan: 5
Notre Dame: 1*
*Notre Dame head coach Jeff Jackson is both a player and coach alum of the NAHL
Three of the four teams have goaltenders that previously played in the NAHL.