Bruins, Rebels put up 7 in wins on Wednesday
April 5, 2018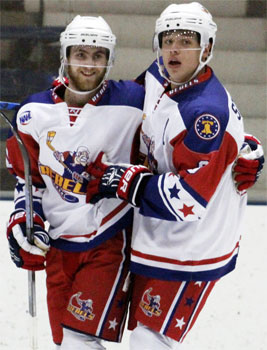 Austin 7 @ MN Magicians 2
– Valdemar Ahlberg had a hat-trick to lead the Bruins to a 7-2 win on Wednesday night in Richfield, Minnesota against the Magicians. The Bruins jumped ahead 2-0 with 1st period goals from Garrett Dahm and Evan Cholak. The Magicians had a response from Jarrett Lee later in the period to make it 2-1 after 20 minutes. The 2nd period saw the Bruins extend their lead to 4-1 with goals from Alex Mella and the first from Ahlberg. In the 3rd period, the Bruins blew the game wide open as Ahlberg scored two more goals to complete his hat-trick and Xander Lamppa also scored. Noah Ganske had the other goal for the Magicians late in the game. Bruins goalie Alex Schilling had to make just 13 saves in the win, while Conor Kiaers made 24 saves in the loss.
Boxscore
Wilkes-Barre/Scranton 1 @ Philadelphia 7
- Alex Frye and Konur Peterson each had two goals and an assist to lead the Rebels to a 7-1 over the visiting Wilkes-Barre/Scranton Knights. It was the Rebels last regular season home game. This game was very different from all of the others. It was a continuation of the January 12 contest that was suspended due to fog. The game picked up at the 11:34 mark of the first period with the Rebels leading 2-0 on goals from Peterson and Frye. Just 2:46 into the reconvened game Peterson would score his second goal of the contest. The Knights struck for their lone goal as Tryone Bronte tipped a shot passed Ryan Keane to make it a 3-1 game with 7:57 left in the period. Two minutes later Frye would score his second goal of the game to make it 4-1. Later in the 1st period, Knights goalie Christian Stoever made an initial save, but Jensen Zerban was there to pick up the rebound and put it into the open net to give the Rebels a 5-1 lead with 3:33 left in the first. Noah Finstrom would pick up his first NAHL goal of the season 2:53 into the second to make it a 6-1 game, and Carson Moniz would score his eleventh goal on the season to make it a 7-1 game. Keane stopped 25 of 26 shots while Stoever turned aside 29 of 36.
Boxscore