Brahmas beat RoadRunners on Monday, 4-1
April 3, 2018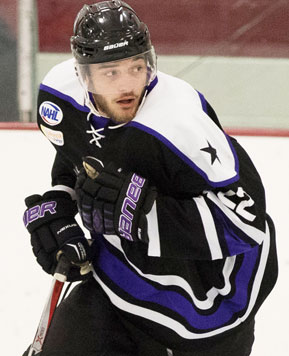 Topeka 1 @ Lone Star 4 - The Lone Star Brahmas welcomed the Topeka RoadRunners into the NYTEX Sports Centre to close out the home half of their NAHL schedule. Despite having outscored Topeka 13-3 just a few weeks ago it was the RoadRunners who grabbed the early lead. However, the lead was short lived and the Brahmas went on to a comfortable 4-1 win.
The Topeka goal came after a short puck battle in the far corner with Chad Hillebrand flipping it off the board as he fell to the ice. Lucas Herrmann received the pass in the high slot and gave a touch pass to Brendan Schultz in the far circle for a quick wrister over the glove hand of Mitchell Gibson.
Just under three minutes later, Kimball Johnson sent the puck off the glass and out of the Brahmas defensive zone. Jeremy Gabriele gloved it down and attempted to send it back into the Brahmas' end of the ice, but Jon Russell picked it off. He skated down the far side, cut to center around the defense and slid it between the pads of Derek Fournier at 7:42. Lone Star went on their first power play of the night at 14:52. They maintained the zone for an extended stretch keeping pressure on the Topeka defense. At 16:44, Drew Lennon cut off a clearing attempt at the far point then sent it to Julian Biondo in the leftwing circle. The Brahmas' captain found Frankie Trazzera at the left hash mark and he used Herrmann as a screen sending a shot between the legs of the Topeka forward into the twine.
Early in the second Austin Bottrell moved the puck from the near corner to Ture Linden at the halfwall. Linden sent a blind backhand pass into the leftwing circle to Jake Suede coming off the bench. Seude caught the pass pirouetted on the faceoff dot and sent a backhander inside the near post. The goal at 4:21 was Suede's first NAHL goal in only his second game as an Affiliate Player.
Suede scored his second of the night at 2:52 of the third on the power play. Suede got it started sending the puck down the far wall to Bottrell who was met by two Topeka defenders at the halfwall. Bottrell sent it to Suede who had continued into the far circle where he pulled it away from Keenan Johnson spun and fired it over the right shoulder of Fournier.
The shots on goal were even in the contest 24-24, with Gibson making 23 saves for the Brahmas and Fournier making 20 saves for the RoadRunners.