Home of the Mudbugs named a finalist for Kraft Hockeyville USA
April 2, 2018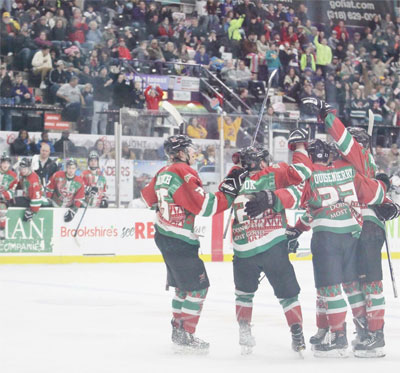 By Roy Lang, Shreveport Times
The home of the North American Hockey League's (NAHL) Shreveport Mudbugs, George's Pond at Hirsch Coliseum, was named a finalist for Kraft Hockeyville USA, a national contest that honors communities with amazing (hockey) stories.
"The George" is one of four finalists for the grand prize of $150,000 in rink improvements and the possibility of playing host to an NHL preseason game.
George's Pond, Memorial Sports Center (Middlebury, Vermont), Clinton Ice Arena (Clinton, New York) and Brandon Valley (Brandon, South Dakota) will be eligible for less than 48 hours of voting beginning April 13 on
www.krafthockeyville.com
.
The finalists were revealed on NBC's NHL coverage on April 1st.
In addition to the grand prize, there is one $30,000 award and a pair of $10,000 checks toward upgrades.
"To even be in the conversation in the final four – get that notoriety and put Shreveport and George's Pond at Hirsch Coliseum on the map," Mudbugs assistant coach Jason Campbell said.
"(George) would be ecstatic if something like this were to happen in his name – we do it all for him. With the birthday parties, schools that come in, public skates, figure skating -- we're growing and moving in the right direction. People are still finding out about what we're doing here. Once they get here and try something we're doing, it's hard for them to leave. They get hooked. We'd be doing them proud."
After a five-year respite, the Mudbugs were reborn in the NAHL in 2016 and named their rink in honor of George Cloutier, a former goaltending prodigy who vowed to break every record established by his hometown team.
Cloutier carried a "live to love; love to live" mantra and cherished hockey because it brought people together. A decade ago, Cloutier's sudden passing at age 12 devastated the community. Three years later, hockey nearly died in Shreveport.
Mudbugs owner Tommy Scott and Scott Muscutt (the franchise's first player, former head coach and current general manager), vowed to keep Cloutier's dream alive.
"There is going to be an ice rink built in this town called George Cloutier Pond. I'm not going to sleep until it happens. I can't let that kid down," Muscutt told The Times. "I know what his dream was. We're going to make it come true."
Last season, the Mudbugs were honored as the NAHL's Organization of the Year. As an expansion team in 2016-17, the Shreveport Mudbugs revitalized a passionate hockey community in what is traditionally a non-hockey market in the Southern United States. After the professional hockey version of the Mudbugs in 2011, the community was hungry for a team to call its own again. Enter owner Tommy Scott and general manager Scott Muscutt, who brought together a staff that would re-introduce the Mudbugs to the community. The team made visits to local hospitals and schools and also spent time serving meals in the community and assisting with the local youth hockey program. They also finished 2nd in overall league-wide attendance with an average of 2,850 fans per game.