Brown Bears, Generals pick up wins on Thursday
March 29, 2018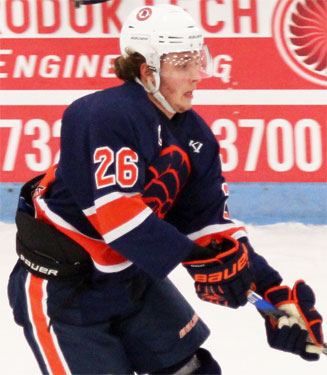 Kenai River 4 @ Fairbanks 3 (OT)
– The Kenai River Brown Bears completed one of the greatest comebacks in recent NAHL history as they stormed back from 3-0 down with three goals in less than two minutes in the final four minutes of regulation, and then scored less than a minute into overtime to defeat the Ice Dogs in Fairbanks, 4-3. Luke Orysiuk was the first to score when he gave Fairbanks a 1-0 lead with a power-play goal 7:38 into the contest. Tanner Schachle beat Kenai River goaltender Gavin Enright for his 24th goal of the season 8:56 into the second period before Noah Wilson made it 3-0 just 3:16 into the final frame. But the Brown Bearsdidn't quit. Filip Karlsson ignited the comeback by putting a rebound past Ice Dogs netminder Josh Benson at the 16:01 mark of the third period. From there, it was all Kenai River. Gil Garcia cut the visitors' deficit to one just 19 seconds after Karlsson's goal, while Emils Ezitis evened the score just 1:21 later. All it took was 1:40 of action for the Brown Bears to flip the game on its head. The real gut punch came in overtime, however, when Michael Spethmann sent a shot into the top shelf to complete the improbable come-from-behind victory. Enright made 35 saves in the win, while Benson made 20 saves in the loss.
Boxscore
Northeast 5 @ Philadelphia 3
– In what could potentially be a playoff series preview, the Northeast Generals scored three goals in the 1st period and then hung on after a Rebels rally to defeat Philadelphia, 5-3 on Thursday night. Five different players scored for the Generals, which included three goals in the 1st period from Mike Egan, Matt Demelis, and Louis Boudon. The Rebels stormed back to cut the lead to 3-2 in the 2nd period with goals from Ryan Patrick and Jensen Zerban, but a Northeast goal from Jeff Skinner late in the period pushed the Generals lead back to 4-2. In the 3rd period, Philadelphia got a goal from Carson Moniz with less than a minute to go in regulation to make it 4-3, but an empty-net goal :37 seconds later from Brian Chambers secured the 5-3 win for Northeast. Generals goalie Marko Sturma made 25 saves in the win, while Eli Billing made 3 saves and Ryan Keane made 10 saves in the loss.
Boxscore