Tomahawks, Titans win on Sunday
March 19, 2018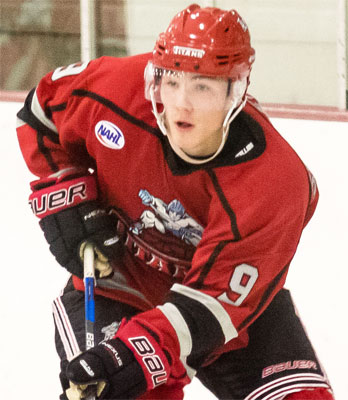 Northeast 1 @ Johnstown 2
- The Johnstown Tomahawks concluded their three-game-weekend against the Northeast Generals with 2-1 regulation win. Johnstown scored the only goal of the first period at 4:01. Samuel Solensky scored his sixteenth goal of the season, beating Northeast's goalie, Marko Sturma with a five-hole shot. The assists went to Roman Kraemer and Joe Kile. In the second period, Northeast tied the game on a short-handed breakaway goal from Alex Cohen. Cohen's goal was his ninth of the season and Patrick Harrington picked up the lone assist. After two period the game was tied, 1-1. In the third period, Johnstown took the lead when Carson Brière netted his tenth goal of the season, while on the power play. The assist went to Roman Kraemer at 6:22. Kraemer's goal would be the game-winning goal as Jack Leavy and the Tomahawks shut the door the rest of the way and picked up the 2-1 victory. Leavy made 24 saves in the win, while Sturma made 36 saves in the loss.
Boxscore
New Jersey 5 @ Philadelphia 3
- The visiting New Jersey Titans scored four unanswered goals to comeback and defeat the Philadelphia Rebels 5-3 on Sunday. Tate Singleton and Zachary Faremouth each had a pair of goals for the Titans. The Titans took a 1-0 lead in the 1st period thanks to a power play goal from Singleton who one-timed it past Rebels netminder Ryan Keane. The Rebels would tie it on Eric Olson's ninth goal on the season. The Rebels would take the lead with 1:54 into the second period. Bryant Gunn would glove down the puck at center ice and rush into the offensive zone. Gunn would cut across the goalmouth and take a shot that Ladd saved but Auggie Moore picked up the rebound and hit the back of the net to make it 2-1 Rebels. The Rebels would go up 2-1 thanks to a rebound goal from Luke Radetic. Two minutes later the Titans would begin their comeback thanks to the second goal of the game from Singleton who one-timed a back door pass past Keane to cut the Rebels lead to 3-2. With 6:36 remaining in the period Faremouth would knot the game at three. Midway thought the 3rd period, Faremouth would score his second of the game to make it a 4-3 Titans lead. New Jersey put the game on ice as late in the 3rd period, Ryan skated in on a breakaway and beat Keane glove side to close out the scoring. Keane stopped 23 of 28 shots in the loss, while Matt Ladd turned aside 25 of 28 in the win.
Boxscore