Ice Dogs, Rebels, Brahmas, and Jr. Blues win on Thursday
March 16, 2018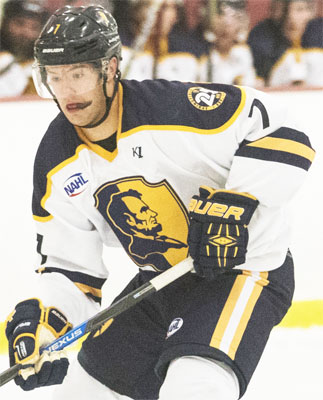 Janesville 3 @ Fairbanks 7 – Seven different players scored as the Ice Dogs broke open a tight game with four goals in the 2nd period on their way to a 7-3 win over the visiting Jets. Things were close after one period as Fairbanks led 3-2. Jax Murray, Caleb Hite and Jack Johnston all scored goals for the Ice Dogs in the opening period, while Jakov Novak and Simon Sagissor had the Jets goals. The Ice Dogs put the game away in the 2nd period with four goals in a span of nine minutes as Luke Orysiuk, John Stampohar, Jake Willets and Samuel Ruffin scored. Sam Renlund would score the other Jets goal. Josh Benson made 20 saves in the win, while Daniel Lebedeff made 20 saves in the loss. Hunter Wendt had three assists in the Ice Dogs win.
Philadelphia 7 @ Wilkes-Barre/Scranton 3 – Carson Moniz and Aaron Maguyon each scored twice as the Rebels moved to the brink of clinching the East Division regular season title with a 7-3 win on Thursday. The Rebels scored four goals in the 1st period and never looked back, which included goals from Moniz and Maguyon and others from Brandon Stanley and Auggie Moore. Chase Hamstad added a 2nd period goal and Maguyon and Moniz would both get their second goals of the night later in the game. Blake Kryska, Reed Robinson and Curtis Carlson scored for the Knights. Rebels goalie Ryan Keane made 42 saves in the win, while David Tomeo took the loss, making 12 saves. Christian Stoever made 16 saves in relief.
Topeka 2 @ Lone Star 3 – The Brahmas allowed just 12 shots on goal in a close 3-2 win on Thursday night over the RoadRunners. The RoadRunners opened the scoring with Justin Kelley netting his 4th goal of the season in the 1st period. The Brahmas came back in the 2nd period to take a 2-1 lead on goals from Frankie Trazzera and Connor Pooley. Chad Hillebrand would tie the game at 2-2 later in the period with a shorthanded goal. The game-winner came early in the 3rd period as Steven Ipri scored his 16th goal of the season. Harrison Feeney made 10 saves in the win, while Sam Metcalf made 21 saves in the loss.
Springfield 4 @ Kenai River 3 – A late shorthanded goal from Dylan Rauh moved the Jr. Blues to the brink of a playoff berth thanks to a 4-3 win on Thursday night. Chase Mickelson, who had a goal and an assist in the win, started the scoring for the Jr. Blues in the 1st period. Max Brainin and Nick Schultze scored in the 2nd period and Rauh added the game-winner late in the 3rd period. Brown Bears goals came from Sutton McDonald and Filip Karlsson in the 2nd period and Lukas Millen in the 3rd period. Evan Fear made 21 saves in the win, while Gavin Enright made 27 saves in the loss.