Tomahawks, Jackalopes pick up OT wins on Sunday
March 12, 2018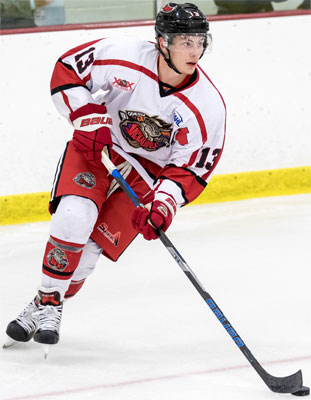 Johnstown 3 @ New Jersey 2 (OT)
- In the final game of the weekend series and for the second consecutive game, the Johnstown Tomahawks beat the New Jersey Titans in overtime 3-2 Sunday afternoon at Middletown Ice World. The Titans once again got the opening goal when Hunter Alden scored on the power play 1:56 into the opening period, which would be the score going into the first intermission. New Jersey would then add to their score at the 15:07 mark of the second period, with Wade Novak putting his team ahead 2-0. The Tomahawks would answer back a little over a minute later, with Joe Kile (assisted by Roman Kraemer and Samuel Solensky) scoring his 14th of the season. Johnstown would go into the third down 2-1. A little over three minutes into the period, Carson Briere (assisted by Solensky and Christian Gorscak) would tie the game at two on the power play. The game would again have to be decided in overtime. At the 3:43 mark of the extra period, Ben Schmidling (assisted by Briere and Andrew Quetell) would score his 13th of the season to win it for the Tomahawks. Jack Leavy made 40 saves in the win, while Matt Ladd made 21 saves in the OT loss.
Boxscore
Amarillo 3 @ Odessa 4 (OT)
- Zac Herrmann netted the overtime winner as the Odessa Jackalopes hopped past the Amarillo 4-3 in extra time on Sunday. This was the final time the teams would meet this season. The Jacks broke through first for the third straight night when James Crossman beat Jason Grande with only 1:04 remaining in the period. Odessa opened the second period the way the finished the first; with momentum. Only 59 seconds into the second stanza, Jared Christy found the puck off a draw, where he shoveled a long shot from the right circle past Grande's head for the 2-0 lead. Amarillo would get one back five and a half minutes later as a late attacker in Nic Griebenow fired one past Alex Camarre to cut the deficit in half. Nick Wilson kicked things off in the third as Grande made some big saves to start. Wilson fought his way into the crease before burying one past Grande, extending the lead to two. Amarillo would get two back with about five minutes left in the third as the extra attacker came on for a delayed penalty in a goal from Nick Stuckless. The Jacks still had a chance to close out, but the Bulls tied the game with a power play goal from Austin O'Rourke. Zac Herrmann took matters into his own hands in extra time as he led the rush, carried between the circles, and snapped the game-winner past Grande as the Jacks pull off the victory. Alex Camarre made 33 saves in the win, while Grande stopped 38 but took the loss.
Boxscore