March 8, 2018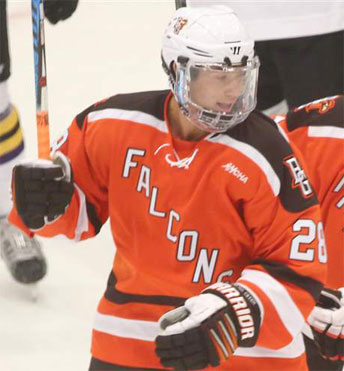 Let's Play Hockey and the Herb Brooks Foundation announced the 10 semifinalists for the 2018 Mike Richter Award, which honors the most outstanding goaltender in NCAA men's hockey. The five finalists for the fifth annual award will be announced on Thursday, March 22, with the winner presented on Friday, April 6 at the 2018 NCAA Men's Frozen Four in St. Paul, Minn. Candidates for the Mike Richter Award were determined by nominations from all 60 NCAA Division I men's hockey head coaches. The semifinalists, finalists and winner are selected by a committee of coaches, scouts and members of the media. The list includes two NAHL alumni as Clarkson sophomore Jakie Kielly (Austin Bruins) and Minnesota-Duluth sophomore Hunter Shepard (Bismarck Bobcats) were named to the list. Former NAHL and current Winnipeg Jets netminder Connor Hellebuyck was the inaugural winner of the award in 2014.
Former NAHL (Amarillo Bulls) and NAPHL alum and Rockford IceHogs goaltender Collin Delia has been selected as the AHL Player of the Week for the period ending Mar. 4, 2018. Delia turned aside 72 of the 73 shots he faced in two starts last week, posting a 0.50 goals-against average, a .986 save percentage and the first shutout of his professional career. On Wednesday evening Delia made 38 saves to anchor Rockford's defense in a 2-1 victory over Texas, and on Saturday night he stopped 34 shots in a 3-0 blanking of Wilkes-Barre/Scranton. Delia was named the game's first star in both contests. A rookie out of Merrimack College, Delia has a record of 11-6-2 in 19 appearances with Rockford this season – including a 10-2-2 mark in his last 14 decisions – along with a 2.78 goals-against average, a .901 save percentage and one shutout. The 23-year-old native of Rancho Cucamonga, Calif., signed as a free agent with the Chicago Blackhawks on July 28, 2017, after being named a Hockey East Third Team All-Star in 2016-17.
Two NAHL alumni, Brady Ferguson (Amarillo Bulls) and Paul Berrafato (Amarillo Bulls) were named to the Atlantic Hockey All-Conference 1st Team. Robert Morris's Ferguson is the only returning First Team selection from last year and Berrafato had a phenomenal second half of the season in net for Holy Cross and ended the regular season with a .922% save percentage and five shutouts, both tops in the league.
In addition, two NAHL alumni, Brennan Kapcheck (Philadelphia Rebels) and John Zimmerman (Lone Star Brahmas) were named to the Atlantic Hockey All-Rookie Team. Kapcheck had a phenomenal rookie season, leading the Yellow Jackets in overall scoring (25 points) despite his defensive position. He got off to a great start, being named the Atlantic Hockey Rookie of the Month for October and finished with 17 league points. Zimmerman was one of the best puck-moving defensive players in Atlantic Hockey in 2017-18. All 11 of Zimmerman's points were assists and came in conference play.
NAHL alum Nico Sturm (Austin Bruins) was named a finalist for the ECAC Best Defensive Forward Award. Sturm is the top player in the league and country at the face-off circle, winning 62.1% (393-240) of his draws on the season. The sophomore from Augsburg, Germany has been strong in specialty teams play for the Golden Knights recording five power-play goals, one shorthanded marker and three game-winners in ECAC Hockey play. Clarkson's second leading scorer on the season (14g-19a-34pts) has also recorded 21 blocks and posted a plus-minus rating of +17.
NAHL alum Hunter Shepard (Bismarck Bobcats) was also named to the NCHC All-Conference 2nd Team. Shepard led the NCHC with 13 wins in conference play, going 13-10-0 as he was the only goalie to start all 24 NCHC games. His four shutouts tied for the NCHC lead, while his .915 save percentage and 2.23 GAA both ranked third in the conference.
Four NAHL alumni were named to the WCHA All-Conference 1st Team. Minnesota State sophomore forward Marc Michaelis (Minnesota Magicians) was the 2016-17 WCHA Rookie of the Year and lone repeat first-team performer, topped the league by averaging 1.33 points-per-game in 24 WCHA contests as a sophomore, tallying 15 goals and 17 assists for 32 points (tied for second). Northern Michigan junior forward Troy Loggins (Wenatchee Wild) was third in the league with 16 WCHA goals during his junior campaign, added 12 assists for 28 points and matched Michaelis for the league lead with three shorthanded tallies. Alaska-Fairbanks senior defenseman Zach Frye (Wenatchee Wild) was tops in nearly every offensive category during league play, leading WCHA defensemen with eight goals (tied), 20 assists (tied), 28 points, 0.29 goals- and 0.71 assists-per-game (both tied), 1.00 points-per-contest, two game-winning goals (tied), 102 shots on goal and 3.64 shots-per-game. Northern Michigan's Atte Tolvanen (Minot Minotauros/Minnesota Magicians) is the All-WCHA First Team goaltender. Despite missing six games due to injury, the junior tied for the league lead with 17 WCHA wins in 22 starts. Tolvanen ranked second in the WCHA with a .773 winning percentage (17-5-0), a .917 save percentage, and two shutouts (tied), while he finished third with a 2.05 goals-against average.
In addition, two NAHL alumni were named to the WCHA All-Rookie Team. Bowling Green's Brandon Kruse (Brookings Blizzard) paced league rookies with 21 assists, 0.75 assists-per-game and eight power-play helpers in WCHA contests, while ranking second with 25 points (also four goals). Minnesota State forward Reggie Lutz (Fairbanks Ice Dogs) was also named to the team. Lutz paced WCHA freshmen with a plus-14 rating in his 25 conference games, tied for first with three game-winning goals and was third with 22 points (6g-16a).