Bobcats, NAHL alum Hintz gets called up to NHL
March 7, 2018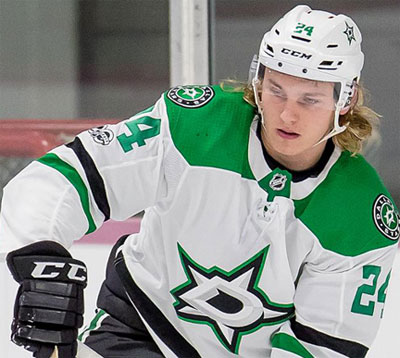 Forward Roope Hintz, a member of the NAHL's Bismarck Bobcats during the 2012-13 season, became the second-ever Bobcat alum to make it to the National Hockey League Monday when the Dallas Stars called him up to the big leagues.
"To this day, our organization remains extremely proud of Roope," noted Bobcats head coach and general manager Layne Sedevie, who traded for Hintz in the fall of 2012. "We were only able to work with him for a short time but even then his talent was very apparent.
"More importantly than that, though, he is a fine young man who has stayed in contact with our staff since he played here."
Drafted 49th overall in the 2015 NHL Draft by the Stars, Hintz has turned heads in his first professional season in North America: submitting 15 goals and 12 assists with the Texas Stars, Dallas' American Hockey League affiliate.
Dallas used their third of four allotted post-deadline call-ups to bring the rookie up to the parent club.
"Hintz has stepped up here. His game has gone up another level. He was our best forward [in the preseason against Colorado]," hailed Stars head coach Ken Hitchcock on the Finn's development. "He's now challenging, where you weren't sure before."
Hintz played an early portion of the 2012-13 season with the Cats before turning pro to play for Ilves in his home town of Tampere, Finland.
With the call-up, Hintz joins 2009-11 Bobcat goalie Ryan Faragher as one of two Bobcats to reach the NHL; Faragher was called up to the Anaheim Ducks during the 2015 Stanley Cup Playoffs.