Brahmas complete three-win weekend with shutout on Sunday
March 4, 2018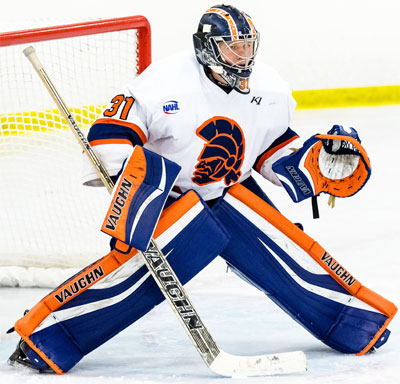 Shreveport 0 @ Lone Star 2
- With a combined total of 12 goals scored between the two teams in 305 minutes of play this season, fans could well expect another low scoring affair and the opening 20 minutes Friday followed suit. The Brahmas outshot the Mudbugs 8-5 in the first period, but the game remained scoreless.The first score of the contest came off the stick of Ture Linden scoring his fourth goal of the weekend. The score remained 1-0 Lone Star until the 19:57 mark of the third. With the Mudbugs' net empty, Kyle Hallbauer picked off an entry pass just inside the Brahmas' blueline and sent it up to Aidan Spellacy in neutral ice. Spellacy sidestepped a defender as he moved up ice then fired it in from the near circle. Mitchell Gibson made 15 saves for the shutout, while Jaxon Castor made 21 saves in the los. The shutout was the eighth of the season for Gibson with five of those coming against the NAHL South Division leading Mudbugs.
Boxscore
Northeast 5 @ Wilkes-Barre/Scranton 2
– In the second game of a three game series, the Northeast Generals got 41 saves from goalie David Fessenden in a 5-2 win Wilkes-Barre/Scranton on Sunday. The Generals got off to a fast start and put the game out of reach early with four goals in the 1st period in a five minute span. Matthew Rutigliano opened the scoring, which was followed by goals from Justin Jallen, Cam Gaudette and Matt Demelis. The four-goal outburst resulted in a goalie change for the Knights, who went from Christian Stoever to David Tomeo. The switch gave the Knights signs of life as they cut the lead to 4-2 midway through the 3rd period thanks to goals from Michael Morrissey and Mike Gelatt. However, a late empty-net goal from Brian Chambers, his first of the season. Stoever made 9 saves in the loss and Tomeo was perfect in his relief appearance with 20 saves.
Boxscore