Northeast Generals forward Jallen makes NCAA DI commitment
February 22, 2018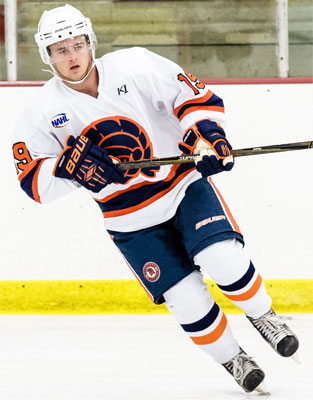 The Northeast Generals, proud members of the North American Hockey League (NAHL) are proud to announce that forward Justin Jallen has committed to play NCAA Division I hockey for Brown University in the ECAC.
The 20-year-old from Woodbury, Minnesota, came to the Generals in a preseason trade before the 2016-17 season and has played in all but one of the franchises games to date. In his first year in the NAHL, the St. Paul's Academy standout, had 19 points.
So far during the 2017-18 season, Jallen (5'/8160) has been one of the main reasons for the Generals turnaround, compiling 36 points, including 19 goals (tied for team lead and for 11th in the NAHL).
"Justin has done everything we have asked of him since he came to the Generals. He was a kid we identified right away as a cornerstone player for our organization. He has been a leader both on and off the ice since Day 1," said Generals GM Bryan Erikson.
Erikson continued, "It's no secret we struggled last year but we knew with the returners we had that we would make a huge leap forward. That wouldn't have been possible without the work that Justin put in to improve his game and his leadership in the locker room. He has elite speed and he has used that to his advantage often this year. He has had an excellent year so far. We are extremely proud of Justin. He deserves this commitment. It is great that he is not only getting to play NCAA Division I college hockey but getting to further his education at an Ivy League school like Brown."
Head Coach Joe Lovell said, "Justin plays with pace and does a great job keeping defenders on their heals. He has been a real force 5-5 but has also developed his game to be a weapon in all special teams situations. We are extremely excited for Justin and look forward to him helping our team the rest of this season."
This is the 5th player on the Generals roster with a D1 commitment. Justin joins teammates Colin Bilek (West Point), Matt Demelis (Northeastern), Louis Boudon (Lake Superior State) and Brian Chambers (UMASS Lowell).