Rebels, Brahmas post shutouts on Monday
February 20, 2018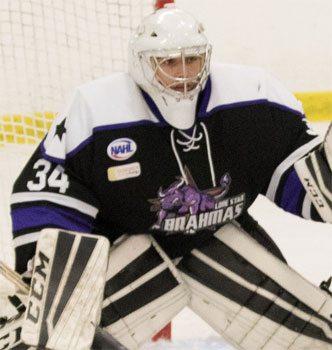 New Jersey 0 @ Philadelphia 3
- Goaltender Eli Billing turned aside all 27 shots he faced as the Rebels defeated the visiting New Jersey Titans in today's Presidents Day matinee. It was Philadelphia's fourth consecutive win, and the victory grew their lead in the East Division by 17 points over second place Wilkes-Barre/Scranton. Brandon Stanley had a two-goal game. Early in the 1st period, Luke Radetic spun and sent a backhanded shot on net that was redirected by Stanley past New Jersey goaltender Matthew Ladd to give the Rebels a 1-0 lean at 5:13 into the period. The Rebels would double their lead on Ryan Patrick's sixteenth goal on the season with 2:36 left in the first. After a scoreless second period, Stanley would score his second goal of the game with 6:20 into the third period with an outstanding display of hustle. It was Billing's second shutout on the season. Ladd turned aside 23 of 26 shots in the loss.
Boxscore
Shreveport 0 @ Lone Star 2
- The Lone Star Brahmas played host to the NAHL South Division-leading Shreveport Mudbugs on Monday at NYTEX Sports Centre. The first goal of the game came on a rush up ice by the Brahmas with Aidan Spellacy sending a pass to Julian Biondo in front of the penalty box from deep in the Brahmas' defensive zone. Biondo carried the puck to the right wing circle and hit a streaking Jakub Sirota in stride with a centering pass that the big Czech defenseman punched past the right pad of Grigals at 7:27 to make it 1-0. Coming out of the media timeout the teams lined up for a faceoff to Gringals' left. Linden pulled it back to Steven Ipri who skated it toward the left hashmark delaying to clear the defense and sent it back across the grain past the glove hand at the 11:28 mark to make it 2-0. Shreveport pulled Gringals with 3:08 left in a desperation attempt to get back into the game, but as they had all night the Lone Star defense denied any opportunities. Brahmas goalie Mtichell Gibson posted his 6th shutout of the season making 11 saves, while Grigals made 24 saves in the loss.
Boxscore