Shreveport defenseman Procopio makes NCAA DI commitment
February 14, 2018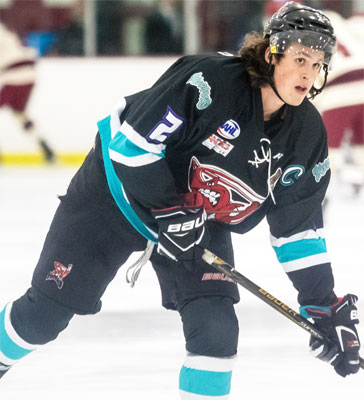 The Shreveport Mudbugs, proud members of the North American Hockey League (NAHL), are pleased to announce that defenseman Dominick Procopio has committed to play NCAA Division I hockey for UMass-Lowell in Hockey East.
Procopio, 20, is completing his third and final season in the NAHL with the Mudbugs. The native of Grosse Pointe, Michigan, is currently 2nd in NAHL scoring for defensemen with 34 points (5 goals, 25 assists) in 42 games played.
Procopio (6'2/190) was named the NAHL's Defenseman of the Month in November, and was the Runner-Up for the award in December. Earlier this week, he was also named to the 2018 NAHL Top Prospects Tournament to play for the South Division team.
He spent the 2016-17 season with the Mudbugs and had 17 points in 57 games played. He made his NAHL debut with the Brookings Blizzard during the 2015-16 season, playing in 18 games. Overall in his NAHL career, he has played in 117 career games and recorded 52 career points.
"When I had the opportunity to go to UMass-Lowell it was an easy decision," Procopio told MiHockey. "It is a prestigious hockey program, with a great staff. It is place that I believe I will fit in well and have a great opportunity to develop as a player."
"I'm very excited to be playing college hockey," continued Procopio. "It has been a dream of mine since I started playing hockey. I'm very excited for the future. I want to thank my family, teammates, coaches, and everyone who has helped me develop and get to this point in my career."
"Dominick is a classic example of what can happen when a player competes everyday, is persistent,and allows adversity to drive him," said Mudbugs head coach Karlis Zirnis. "Dom's commitment to UMass-Lowell is the definition of 'earned.' Through his actions, he earns the respect of his teammates here in Shreveport everyday, and along the way, has earned the respect of his coaches and the Shreveport community. We are honored to call Dominick a Mudbug and we are ecstatic to watch him do for the River Hawks culture what he has done here for ours."
He is the 7th player on the Mudbugs roster this season who has made an NCAA Division I commitment.