February 1, 2018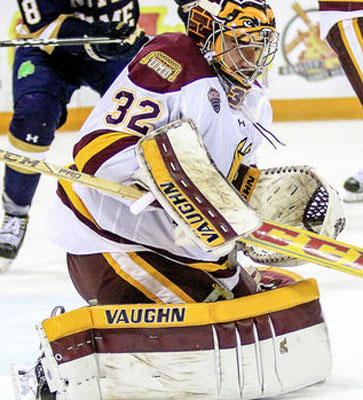 Former NAHL and Austin Bruins forward C.J. Smith was named the MVP of the AHL All-Star Challenge in Utica, NY, scoring three goals and two assists in four games as the North Division captured the tournament. Smith scored the only goal in a 1-0 win over the Pacific Division in the Championship game.
Atlantic Hockey Goalie of the Week: Brandon Wildung, Mercyhurst (Minot Minotauros/Bismarck Bobcats)
Wildung allowed three goals during a 1-0-1 weekend at Army West Point. He played nearly 125 minutes in net (124:55) and stopped a combined 67 shots, resulting in a 1.44 goals against average and a 0.957 save percentage. Wildung is unbeaten in his last seven starts, going 5-0-2 with a 2.10 goals against average and a 0.939 save percentage.
NCHC Goaltender of the Week: Hunter Shepard, Minnesota-Duluth (Bismarck Bobcats)
Shepard started all three games for the Bulldogs last week, all against top-10 opponents, and allowed only four goals in those games, despite his team posting a 1-2-0 record. He made 23 saves in a 1-0 loss last Tuesday at Minnesota State, while helping kill all five MSU power plays. In Friday's series opener against St. Cloud State, Shepard again allowed only one goal while stopping 24 shots, including 12 in the third period, in a 5-1 victory. He then capped his week by making 26 more saves in a 2-1 loss to SCSU on Saturday, including half of them coming in the second period as he earned Third Star of the Game. Shepard finished the week with a .948 save percentage and a 1.35 goals-against average, while totaling 73 saves and helping kill off all 13 opponent power plays he faced in the three outings. On the season, the sophomore is 14-9-1 with a .914 save percentage and a 2.29 GAA with three shutouts.
WCHA Rookie of the Week: Brandon Kruse, Bowling Green (Brookings Blizzard)
Kruse repeats as Rookie of the Week after tying for the NCAA freshman scoring lead with four points, also tied for the overall WCHA lead, as now-No. 14 Bowling Green swept host Lake Superior State. The Saline, Mich. native scored the game-winning marker in Friday night's 5-3 win, before assisting on all three Falcons goals in Saturday's 3-2 triumph. Kruse was the whole assisting player on BGSU's first goal, he picked up the primary helper on the second marker and was a secondary assister on the Falcons' third (and eventual game-winning) goal. With back-to-back wins, Kruse now has two career WCHA weekly awards.
WCHA Offensive Player of the Week: Tyler Spezia, Bowling Green (Port Huron Fighting Falcons)
Spezia helped now-No. 14 Bowling Green to a key league road sweep at Lake Superior State, factoring in both game-winning goals, posting consecutive multi-point contests and tying for the WCHA lead with four points overall. The senior from Clinton Township, Mich. scored the Falcons' third goal in the decisive second period of Friday's 5-3 win, in addition to assisting on Brandon Kruse' game-winning marker just five minutes prior. Saturday night, Spezia enjoyed his second career multi-goal effort, scoring twice in the first period – including the game-winner – in a 3-2 BGSU triumph. With the victories, the Falcons passed idle Minnesota State and moved into second place in the WCHA standings, while remaining three points behind Northern Michigan. This is Spezia's first WCHA weekly award of the 2017-18 season and his second career honor, as he also earned a Rookie of the Week accolade during the 2014-15 campaign.
The Southern Professional Hockey League (SPHL) today announced former NAHL and Texas Tornado forward Justin Greenberg of the Peoria Rivermen is the Warrior Player of the Week for January 22-28. In his first action since going on injured reserve on November 20, Greenberg scored four goals, added an assist and was +3 in leading the Rivermen to a three-game sweep of Evansville last weekend. On Friday, the Dallas, TX native scored a shorthanded goal in the first period and assisted on another tally as Peoria doubled-up the Thunderbolts, 6-3. Greenberg scored a pair of second period goals in a 5-4 win on Saturday before scoring once on Sunday as the Rivermen took a 4-2 decision over Evansville. Greenberg, who also earned the weekly honor for November 6-12, now has nine goals and 13 points in 12 games with the Rivermen this season. Greenberg played the previous four seasons at Miami (OH) University, where he was a three-time member of the NCHC Academic All-Conference Team as an Accounting major.
On Tuesday night, LA Kings' defenseman Paul LaDue scored his first NHL goal in the LA Kings' win against the Dallas Stars. The rookie's goal came just over three minutes into the first period and put the LA Kings up 1-0. LaDue scored by sending a wrist shot past Dallas' Ben Bishop off a perfect pass by captain Anze Kopitar. "You know, played a few games last year and couldn't get it. But felt even better to get the win and to contribute to the win. And to have my dad here made it even more special. So it was just great." Paul said about scoring while his dad was in attendance. LaDue played in the NAHL for the Alexandria Blizzard during the 2010-11 season.