January 26, 2018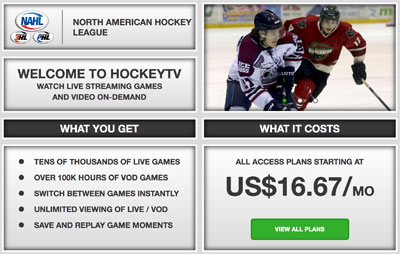 The NAHL closes out the month of January this weekend with a schedule of 20 games from Friday through Sunday. The cut off for the standings for the 2018 NAHL Top Prospects Tournament are coming next weekend, so the opportunity to move in the standings is ripe this weekend.
The NAHL had more NCAA Division I commitments this week and now has 141 for the 2017-18 season entering this weekend, which is ahead of last year's record-breaking number at this point of the season. One of the things the NAHL does better than any other junior league is seeing their players earn an NCAA opportunity while playing in the NAHL.
The NAHL also has several alumni participating in this weekend's NHL All-Star Game.
In the Central Division, some separation as occurred at the top with the Aberdeen Wings surging to the top spot with a 8-0-1 record in their last nine games. The Wings will be put to a stern test this weekend on the road against the Minnesota Wilderness. The 2nd place Austin Bruins will have a good chance to keep pace with the Wings as the Bruins have three home games this weekend, including two against Bismarck and one against the Minnesota Magicians from the Midwest Division on Sunday. The final series has the Minot Minotauros in Brookings for two games against the Blizzard.
In the East Division, the 1st place Philadelphia Rebels are in New Jersey for a pair of games against the Titans. The Rebels lead in the East Division is at seven points. The Titans sit in 4th place and are six points behind the idle Northeast Generals for 3rd place. The other series features the 2nd place Wilkes-Barre/Scranton Knights at home for two games against the Johnstown Tomahawks.
In the Midwest, the top two teams collide on Friday night as 1st place Fairbanks is in Janesville to take on the Jets. Fairbanks has won 13 straight games. The Ice Dogs will be in Coulee Region on Saturday to take on the Chill, who have lost six in a row. The Kenai River Brown Bears will play two different opponents as well as they are in Coulee Region on Friday and in Richfield, MN against the Magicians on Saturday. The Springfield Jr. Blues are in Janesville on Saturday, while the Magicians are also in action on Sunday in Austin.
In the South Division, the 1st place Shreveport Mudbugs look to close in on a playoff spot with a pair of home games against the Amarillo Bulls. The other series features the Corpus Christi IceRays in Odessa to take on the Jackalopes for two games. Lone Star and Topeka are both idle this weekend, but play a two-game series beginning next week on Monday and Tuesday.
Friday, January 26th
Johnstown at Wilkes-Barre/Scranton - 7:30 PM EST
Philadelphia at New Jersey - 7:45 PM EST
Kenai River at Coulee Region - 7:00 PM CST
Fairbanks at Janesville - 7:00 PM CST
Bismarck at Austin - 7:05 PM CST
Minot at Brookings - 7:05 PM CST
Aberdeen at MN Wilderness - 7:05 PM CST
Corpus Christi at Odessa - 7:11 PM CST
Amarillo at Shreveport - 7:11 PM CST
Saturday, January 27th
Janesville at Springfield - 6:05 PM CST
Johnstown at Wilkes-Barre/Scranton - 7:30 PM EST
Philadelphia at New Jersey - 7:45 PM EST
Fairbanks at Coulee Region - 7:00 PM CST
Bismarck at Austin - 7:05 PM CST
Minot at Brookings - 7:05 PM CST
Kenai River at MN Magicians - 7:05 PM CST
Aberdeen at MN Wilderness - 7:05 PM CST
Corpus Christi at Odessa - 7:11 PM CST
Amarillo at Shreveport - 7:11 PM CST
Sunday, January 28th
MN Magicians at Austin - 3:05 PM CST