NAHL alum Hellebuyck ready for NHL All-Star Game
January 26, 2018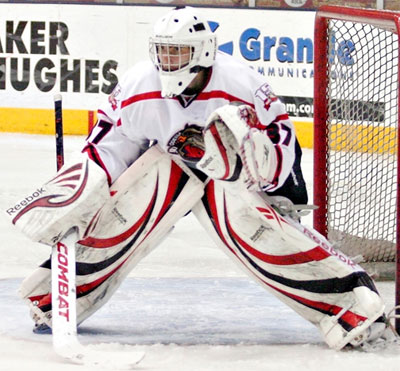 By Joshua Boyd, USA Junior Hockey Magazine
Connor Hellebuyck should hereafter be known as "All-Star Connor Hellebuyck."
After all, the title of All-Star has followed him at every level he's played. From Walled Lake Northern High School in Michigan, to the North American Hockey League, to the NCAA to the AHL and now the penultimate level, the National Hockey League.
Hellebuyck, an alum of the NAHL's Odessa Jackalopes, will make his NHL All-Star Game debut on Jan. 28. With one game remaining before the All-Star break, Hellebuyck was seventh in the NHL in save percentage at .924 and seventh in goals-against average at 2.34 for the Winnipeg Jets.
"It's pretty exciting, it is going to be a very fun weekend. I'll enjoy it with my family," said Hellebuyck, now in his third year with the Jets. "It's a lot of hard work I've been putting in. It's very excited to be put on that [All-Star] list."
Hellebuyck, a two-time Michigan All-State player in his Walled Lake Northern days, spent the 2011-12 season with the Jackalopes.
By the time he left Texas, he had to add a trailer for all the hardware he left with – Co-Rookie of the Year, Co-Goaltender of the Year, All-NAHL Team, All-Rookie Team, All-South Division.
"Any time you get an award and get recognized by the league, it's more of a milestone for your entire family. My parents were very proud, and they followed me all through that year," said Hellebuyck.
He gives a lot of credit to the Jackalopes ownership and coaching staff for the evolution of his game to the point where he was later able to make an impact in the NCAA. The Jackalopes also made him an NHL prospect – the Jets drafted him that summer of 2012 in the fifth round.
"Coming out of high school to the NAHL, I learned the mental game with [former Jackalopes general manager] Joe Clark," said Hellebuyck. "That was one of the biggest things I needed to improve upon, and Joe was a very big mentor with that.
"They also helped me change the technical side of my game – using my size and positioning to my advantage, to make myself look big in the net," said Hellebuyck. "We also worked on rebounds and all the technical aspects of goaltending, really."
Hellebuyck fit the classic NAHL success story profile – he came in without a college commitment, developed in the league, and made his commitment to UMass-Lowell in December 2011. It's no surprise he looks back fondly on his junior year in Odessa.
"I had a blast. The Odessa organization was fantastic, the owners were great, everyone around the rink was awesome," Hellebuyck said. "It's one of the more high-end places, everything was top-notch. They wanted their players to succeed, and they did everything they possibly could to make that possible. I lived with a [billet] family down there, and I had a lot of fun with them, as well."
From 2012-14 with the UMass-Lowell River Hawks, the All-Star and additional awards continued to flow – Hockey East All-Rookie, First and Second Team All-Star, two-time Hockey East Tournament MVP, NCAA All-American, and the first winner of the Mike Richter Award as the NCAA's top goalie in 2014.
From there, it was on to the AHL's St. John's Ice Caps – and an AHL All-Star Game appearance. In 2015, he also represented Team USA in the World Championships and was a World Championship All-Star for the Bronze-winning U.S. squad.
In 2015-16, he made his Jets debut and split the season between Winnipeg and their new AHL affiliate, the Manitoba Moose. Representing the Moose, he made a second straight AHL All-Star Game appearance. All of the Jets struggled to find their feet throughout 2016-17, Hellebuyck's only season since high school without "All-something" honors. A season-ending seven-game winning streak wasn't enough to bridge a seven-point gap between the Jets and the 2017 playoffs.
Here in the present, the Jets have silenced doubters and held a guarded lead on the Central Division's top spot. That Division saw its top four teams separated by five points as of Jan. 28. With 33 games remaining, the Jets were taking a very zen-like approach to what could be a stressful situation for some teams.
"The season is going fantastic, the team is playing great, the guys are bonding well. We're having a good time," Hellebuyck said. "You can't win unless you're enjoying what you do. At the rink, the guys are loose, feeling confident and enjoying it, and I put myself in the same category."
With the major milestone of his first NHL All-Star Game approaching, Hellebuyck was able to reflect on his career's zig-zag geographical path that has led to Tampa this weekend. He's loved all his experiences, from Michigan to Texas to Massachusetts, and from Newfoundland to Manitoba.
"You hear guys who don't want to leave their hometown or don't want to go far, but honestly, I wanted to do whatever it took in my career," Hellebuyck said. "I loved going South. Going out East was a big part of my life, as well. Everywhere, I've learned and met new people. It's been great being able to travel and play hockey."