Jackalopes see immediate benefits of technology upgrade
January 24, 2018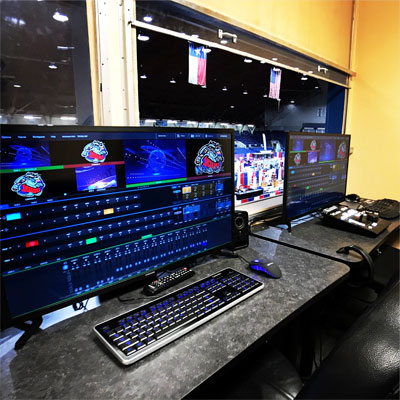 The North American Hockey League's (NAHL) Odessa Jackalopes are well into the 2017-18 season and they have already seen the benefits of new upgrades that provide added entertainment to fans in the arena as well as to those watching online.
The Jackalopes recently completed renovations in their home arena in Odessa, Texas. Ector County Coliseum now sports a new video board and upgraded video production system. The new system features a NewTek production solution that is able to switch cameras, playback audio and video clips as well as queue up graphics for lower thirds, animations or full screen content. Numerous crowd prompts can be played from the system, engaging fans throughout their games.
In addition to upgrading the video control room components, the cameras were also upgraded to High Definition Sony cameras. One of the cameras is outfitted with an MSG wireless video solution to capture fan shots and unique angles of game play. The second camera, which is the main camera, follows the action and is connected to the control room via SDI cabling.
"The reason why we decided to upgrade was because we wanted everyone to be able to see the quality of hockey and experience the Jackalopes and NAHL has to offer on a nightly basis. Our new 20' x 16' ft. HD video board has changed the atmosphere at Ector County Coliseum. It has brought our fans back into the game and they now feel a part of the action. It has also tremendously helped our sponsorships," said Kevin Leisgang, Team President for the Jackalopes.
"By adding this element, we've been able to create new packages and do different interactive games. It has also helped on the ice with our coaches being able to recruit, because players parents are able to watch our game from anywhere in the world with a clear high quality picture. We highly recommend Pantera Productions and Media Support Group, they were able to collaborate with us and give us exactly what we were looking for," said Leisgang.
The NAHL's official broadcast provider, HockeyTV, also benefited from the upgrades as now the Jackalopes are able to stream their games live to viewers around the country in High Definition. The result is an increase in viewership of over 20% compared to last season for the Jackalopes and the team currently ranks 6th in the NAHL in HockeyTV viewership this season.