North Report: Mantha has Warriors thinking playoffs
February 3, 2011
by Alex Kyrias | NAHL.com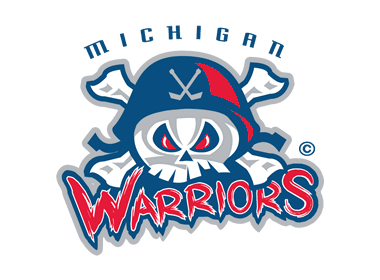 One look at the top of the North Division standings and one name sticks out that people aren't used to: the Michigan Warriors.

Yes, with the likes of seven other new teams in the North American Hockey League (NAHL), their presence and new name takes some getting used to.

However, it's where that Michigan Warriors name appears in the standings that's getting buzz around junior hockey and has the Warriors themselves thinking playoffs.

After spending 13 years playing the National Hockey League and another six coaching in professional hockey, Warriors head coach Mo Mantha is no stranger to the winter race to make the playoffs.

"It's such a crazy time in our division right now and I'm sure every coach would agree," said Mantha, whose Warriors sit in the fourth and final playoff spot in the North Division with 48 points, which is one ahead of fifth-place Motor City and one behind third-place Traverse City. "One loss and you're out of the top four, and one win you're in. It's that close, so every game gets magnified. It's a dogfight."

Mantha is quick to point out that the Warriors success is a team effort.

"We're very balanced and tough to play against, but most important for us is mental toughness," he said. 'We had a lot of first-year junior players, so they've adapted well."

And, while it's easy to focus on the contributions of the entire roster, the Warriors have had individual players step to the forefront.

One of those players is Michigan Tech recruit Andrew Kolb, who's garnering MVP talk from his performance so far this season. Kolb not only leads the Warriors in scoring, but is also in the top 12 in the NAHL in points (43) and in goals (22). Kolb has had multi-point games in over half of the contests he's appeared in and has registered at least a point in 23 of the 26 games.

However, what's most impressive is that he has done all of it in just 26 games.

"He's a game-breaker and gets us goals when we need it," said Mantha. "To put up the points and production he has in just 26 games is truly impressive. Our season began to turn around as soon as he joined the team, so that right there says a lot."

Another key factor has been the goaltending of Robert Tadazak. Tadazak, who hails from right outside Flint, Mich., has been downright spectacular in the month of January. In his seven appearances in the month, Tadazak has allowed just nine goals. He leads the NAHL in save percentage with a .933 and the last time he suffered a regulation loss came back on Dec. 11.

The first-year Warriors have opened a lot of eyes, but Mantha believes they are right where they should be.

"We took our lumps the opening few months of the season, which was expected. It's hard for a brand-new team could come firing on all cylinders right out of the gate," said Mantha. "Our goal was to be a .500 hockey team by Christmas and give ourselves a chance in the second half of the season. I believe the chemistry and character of our team and players have allowed us to succeed to the point where we are today."
NORTH DIVISION NOTEBOOK

CHICAGO HITMEN: Chicago's losing streak hit five games with two tough losses at Janesville last weekend, as it was blanked by the Jets in two games, 4-0 and 6-0. Goaltender Reid Mimmack made 28 saves in the 4-0 loss on Friday. Mimmack started again on Saturday and made 30 saves in the 6-0 loss. Surprisingly it was two defensemen, Eric Szafranski and Joe Graveline, who led the Hitmen in shots (five). Active leading scorer Gabe Gervais and forward Austin Cihak were announced as the two Hitmen representatives at the NAHL Top Prospects Tournament taking place later this month in Ann Arbor, Mich. The Hitmen travels to Springfield for two games this weekend on Friday and Saturday, before returning home on Sunday for a game against Janesville.

JANESVILLE JETS: The second-place Jets ran their win streak to four games with two shutout wins over the Chicago Hitmen. On Friday, goaltender David Jacobson made 23 saves for his eighth shutout of the season. Jacobson's eight shutouts not only leads the NAHL, but is double that of the next closest competitor. Jacobson also leads the NAHL in goals-against average (1.91) and wins (23). Forward Ross Mauermann connected for three goals and two assists in the weekend sweep and earned North Division Player of the Week honors. On Friday, the Janesville native put home two goals, including the game-winner. The next night, the 20-year-old tallied another goal and a pair of assists, including one on Pijus Rulevicius' game-winning marker. He was also a plus-7 on the weekend. The Jets have a light weekend with only one game, at Chicago on Sunday.

MOTOR CITY METAL JACKETS: The Metal Jackets were swept by the Michigan Warriors last weekend and now find themselves fifth in the North Division, a point behind the Warriors for the fourth and final playoff spot. Friday night, the Metal Jackets got 24 saves from goaltender Jimmy Hamby, but could not muster a goal in a 2-0 loss. Motor City, which has the league's best power play at 25.3 percent, went 0 for 5. A night later, the Metal Jackets were defeated 5-2 by the Warriors. The power play got back on track with two power-play goals from leading scorers Cody Wydo and RJ Kleiman, but two third-period tallies by Michigan sent Motor City to their third straight loss despite outshooting the Warriors. Motor City's quest to get back into one of the top four spots faces one of its toughest challenges this weekend as the Metal Jackets host division-leading St. Louis for a pair of games on Thursday and Friday.

PORT HURON FIGHTING FALCONS: With a 2-1 last Wednesday over Michigan, the Fighting Falcons made more history with their first winning streak in franchise history. The weekend saw the Falcons push Traverse City to the limit on the road with a close 6-5 overtime loss on Friday and a 3-1 loss on Saturday, but Port Huron managed to capture three points during the three-game week. Port Huron is just 10 points and four wins behind Chicago for seventh place in the North. The Fighting Falcons have secured seven points in their last 10 games after starting out with just three in their first 29 games. Logan Lemirande scored his second straight game-winning goal on Wednesday, and on Friday the Fighting Falcons got a four-point game from Maxwell Reavis, who ended up with an assist the next night. The Fighting Falcons prepare to host division-leading St. Louis on Saturday and Sunday.

SPRINGFIELD JR. BLUES: After an emotional week, which saw the departure of head coach Andy Maher, and after being shutout against South Division-leading Topeka on Friday night, 5-0 in Topeka, the Jr. Blues rebounded on Saturday with a 2-1 shootout win to give interim head coach Joe Dibble his first victory. Guan Wang was able to tie the game on Saturday early in the third period with an unassisted goal and shootout goals by Mike Fallon, Ethan Nauman and Jack Callahan secured the win for Springfield, which snapped a seven-game losing streak. The Jr. Blues are eight points out of a playoff spot with 18 games remaining. Twelve of those remaining 18 games are at home at the Nelson Center in Springfield, where the Jr. Blues are just 7-9-1 this season. Springfield hosts Chicago for two games this weekend as it looks to get back into the North Division playoff race.

ST. LOUIS BANDITS: After a week off, the first-place St. Louis Bandits gear up for a four games in four days stretch beginning Thursday in Motor City. The Bandits will play the Metal Jackets for two on Thursday and Friday and then the Port Huron Fighting Falcons on Saturday and Sunday. This marks the start of a five-game road trip for the Bandits, who will play six games in the next 10 before having a three-week break after their home game on Feb. 12. Forward Joe Kalisz, who has played just 20 games this year because of injury, is set to return for his first game since Nov. 6. The Bandits are a combined 5-1 this season against Motor City and Port Huron. St. Louis has the most wins of any team in the NAHL with 29.

TRAVERSE CITY NORTH STARS: The North Stars are the NAHL's hottest team, having won their last six games in a row, which included a weekend sweep of the Port Huron Fighting Falcons last weekend at home. The wins moved the North Stars into third place in the North Division with 49 points. In Friday's 6-5 overtime win over Port Huron, Jared Van Wormer had two goals as did Kelin Ainsworth (including the game-winner), while Sean Murphy and Alec Sheilds both had three assists each. The next night, goaltender Zachary Cisek made 20 saves in a 3-1 win. James Albrecht had two goals, while Tim Opie had the other. Traverse City continues its current seven-game homestand with one game on Friday night against the visiting Michigan Warriors, who sit just one point behind the North Stars in the standings.