West Report: Surging Ice Dogs poised for strong finish
February 2, 2011
by Brian McDonough | NAHL.com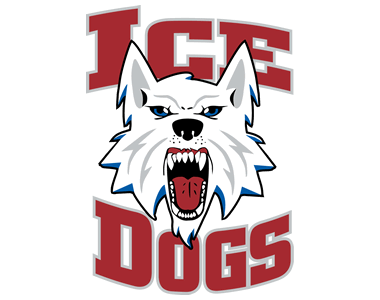 The battle for supremacy in the West Division has been a seesaw affair for much of the season, but no team is sitting prettier heading into February than the Fairbanks Ice Dogs.

Paced by a stellar 5-2 record since the holiday break, the Ice Dogs lead the division with 56 points heading into the weekend - four more than second-place Alaska (with five games in hand) and five more than third-place Wenatchee (two games in hand).

"We're off to a solid start to our second half, but there are a lot of games left to be played and we're just trying to take things one weekend at a time," said Josh Hauge, whose team holds a 27-11-2 record.

The Ice Dogs had last weekend off after skating to a three-game sweep over Texas to close out their January schedule. Alec Hajdukovich blew up offensively in that series, unleashing for two goals and nine assists in the three games. The forward was also a plus-6.

A graduate of the North American Prospects Hockey League, Hajdukovich totaled a gaudy 14 goals and 15 assists in 15 games in December and January. The 19-year-old from Fairbanks has 13 goals for 33 points in 36 games overall.

"Alec took few games to adjust, but he's really flourished ever since we put him on a line with (fellow Fairbanks natives) Jared Linnell and Tayler Munson," said Hauge. "They've taken off."

In addition to Hajdukovich's monster weekend against the Tornado, Linnell and Munson, both University of Alaska-Fairbanks recruits, also put up impressive numbers: Linnell notched four goals and two assists and Munson put home two goals and six assists.

With that line hitting on all cylinders, the Ice Dogs at the same time have been getting solid contributions on the blue line from Sean O'Rourke, Brock Carlston and Pete Spratte.

"Those guys have been playing really well, and we'll need that to continue down the stretch," said Hauge, who also credits the play of his goaltenders, Joe Phillippi and Steven Perry.

Veteran forwards Tyler Voigt, Zach Vierling, John Stompahar, Charlie Thauwald and Alexander Jensen will also dictate the Ice Dogs' success over the next couple of months, according to Hauge.

"Those guys need to lead the way offensively," said the coach.

The Ice Dogs' winning formula this season has come without much player movement. The team stood pat at the recent trade deadline, which speaks highly of the confidence Hauge and the rest of the coaching staff has in the team.

"We have a great locker room and it's a lot of fun to go to the rink everyday," said Hauge. "I think our scouts do a great job of identifying talent and my assistants do a great job of developing that talent when they're here."

The Ice Dogs have the remainder of their schedule working in their favor. After this weekend's two game-series in Kenai River, Fairbanks plays 11 of its final 16 regular-season games at home where the fan support continues to rival the NAHL's best.

"Playing at home is great because we really enjoy our fans and the atmosphere at the Big Dipper," said Hauge, whose team is averaging over 2,100 fans a game - fourth most in the 26-team NAHL. "I think our rink is one of the hardest for opposing teams to play in."

But, in a division that's experienced its fair share of volatility in the standings since September, Hauge knows there's still plenty of work to be done.

"We're just trying to take one weekend at a time and working at practice to get better each day," he said.
WEST DIVISION NOTEBOOK

ALASKA AVALANCHE: Despite only picking up one point in three games in Dawson Creek last week, forward Andy Pearson connected for two goals and two assists. The 20-year-old from Burnsville, Minn., has 13 goals for 36 points through 45 games this season. The Avalanche visits Wenatchee this weekend for a two-game series against the Wild.

DAWSON CREEK RAGE: Goaltender Edward Dyson picked up two of Dawson Creek's three wins over Alaska last week, turning aside 72 of 77 shots. The 18-year-old from Port Alberni, British Columbia, holds an 11-10-1 record on the season to compliment a .913 save percentage. The Rage will host Fresno for a pair of games beginning on Friday.

FRESNO MONSTERS: Forward Willie Hess, 20, tallied a pair of goals, including the game-winner, in the Monsters' 5-3 victory on Friday. The Lino Lake, Minn., native has 18 goals for 25 points through 38 games. This weekend, Fresno heads to Dawson Creek for a two-game series on Friday and Saturday.

KENAI RIVER BROWN BEARS: Forward Brett Lubanski, 20, rang up two goals and four assists as the Brown Bears put together a 2-1 record in Fresno last week. The Farmington Hills, Mich., native ranks second in team scoring with 45 points (11 goals) after 43 games. Kenai welcomes division-leading Fairbanks to town for a two-game series beginning on Friday.

WENATCHEE WILD: Forward Tyler Hope notched two goals and an assist as the Wild fashioned a 1-0-1 mark against Texas. The 18-year-old from McKinney, Texas, has 16 goals through 39 games. "Tyler's as gifted a goal-scorer as we've ever had here in Wenatchee," said assistant coach Chris Clark. "He's always around the net and has scored some very big goals for us this season." The Wild welcomes Alaska to town for a pair of games on Friday and Saturday.