Fairbanks defenseman Orysiuk makes NCAA DI commitment
January 18, 2018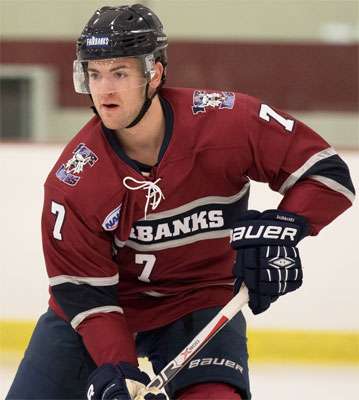 The Fairbanks Ice Dogs of the North American Hockey League (NAHL) are pleased to announce that defenseman Luke Orysiuk became the latest Ice Dog to commit to an NCAA Division I program.
The team captain and third-year Ice Dogs defenseman from Edmonton, Alberta, announced that he committed to play NCAA Division I hockey for Bentley University, in Waltham, Massachusetts.
The Falcons, of Atlantic Hockey, include sophomore forward Ryner Gorowsky, who played for the Ice Dogs in 2015-16, when the program captured its third Robertson Cup.
"He's a player that does things the right way, and he gives an honest effort," Stewart said of Orysiuk, 5-foot-11 and 180 pounds. "He's grown over the course of the last couple of seasons. He's a well-rounded player that has a lot of room for growth still."
Orysiuk, 20, has a 3 goals, 12 assists, 15 points scoring line while playing every game this season. He's compiled 49 career points from 10 goals and 39 assists in 138 games.
"They're (Bentley) getting a good student, as well," Stewart said. "They're getting a very good hockey player and a very good citizen to be a part of their university."
Other Ice Dogs to commit to D-I programs are defenseman Nolan Schaeffer (Robert Morris) and forwards Robert Blueger (Lake Superior State), Daniel Haider (Army), Samuel Ruffin (University of Alaska Fairbanks) and Tanner Schachle (University of Alaska Anchorage).