Knights defenseman Firriolo makes NCAA DI commitment
January 18, 2018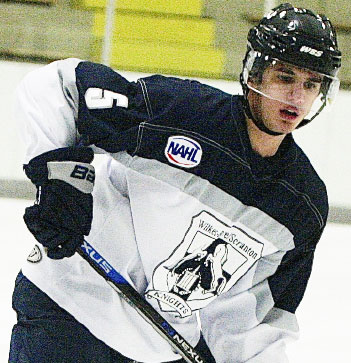 The Wilkes-Barre/Scranton Knights of the North American Hockey League (NAHL) are pleased to announce that defenseman Anthony Firriolo has committed to play NCAA Division I hockey for the United States Military Academy West Point (Army) starting in the 2019-20 season. The 19-year-old defenseman has chosen not only to play for a great hockey program but also to serve his country in the army.
"Just the brotherhood, the chance to serve my country," said Firriolo of his interest in Army. "They came to me recently and I had the opportunity to visit the campus. It really felt like a perfect fit for me."
The United States Military Academy has been a member of NCAA Division I hockey since the program's beginning in 1903. For the past 15 years the Black Knights have competed in the Atlantic conference with former Brown University alum Brian Riley serving as head coach for the previous 14 seasons. Alumni of the Black Knights program include former NHL forward and Stanley Cup Champion Dan Hinote.
"Anthony is headed to a program that fits his personality and who he is," said Knights head coach Tom Kowal. "It tells you about his character. He's a talented player, but a better person who not only wants to play hockey and work hard to earn an education, but wants to serve his country in doing so. We're very proud of him."
After being acquired in a trade with the Amarillo Bulls early in the season, Firriolo has settled in nicely as a potent offensive player on the Knights talented blue line. Through 22 games with the Knights and 11 with the Bulls, Firriolo leads all Knights defensemen in assists with 13 and has logged valuable time on the team's power play, serving as one of its primary quarterbacks. Six of his 13 helpers have come while on the man-advantage.
"I feel I bring offense to a team's defense," said Firriolo of his playing style. "I bring some skill to the back end, I like to move pucks up the ice and create opportunities to score. I think I'll fit at West Point because I like to challenge myself. I like to work hard and have a never-give-up attitude, and out on the ice I'm constantly looking to make myself and my teammates better."
Through it all, the defenseman has kept an appreciation for playing in the NAHL and his team's competition.
"The compete level, especially in our division, is special," he said. "Every night is like a playoff game. You have to bring your a-game because it can go either way against the first-place team or last-place team. Everybody's highly skilled."
Firriolo has enjoyed his time playing as a Knight thus far, and credits all those who've been alongside him on the journey.
"The coaching staff here has been unreal," he said. "They took me in after I arrived, a little after the beginning of the season. This group of teammates I think is the closest group I've ever been a part of. They way this place operates is perfect for me."
With his commitment to the Black Knights, Firriolo becomes the seventh Knights NAHL veteran to commit to a division one school over the past year, the third to a team in the Atlantic Hockey.
"He's a player we've had a need for this year," said Kowal. "Him being an offensive-minded defenseman is an important piece to have on any hockey team, the way the game is being played now. He's filled that role nicely for us. At the end of the day, we're thrilled with what he's brought to our program. I really look forward to rooting him on as he advances forward in his hockey career."
"I want to thank Coach Tom and Coach Whiteside for all they've done for me," said Firriolo. "I also want to thank all my previous coaches, my teammates, and my family for supporting me all the way."