Central Report: Chill positions itself as contenders
February 1, 2011
by Brian McDonough | NAHL.com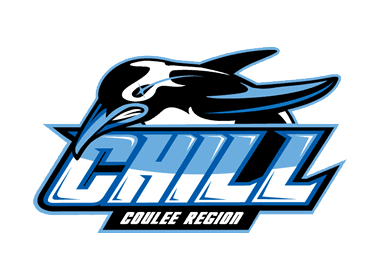 Still in contention for a Central Division title with two months left to play, the Coulee Region Chill fashioned a 6-4-1 record in January.

That mark certainly didn't wow head coach Garrett Strot, whose team had its ups and downs during the first month of the year.

"I think our second half has been OK," said Strot. "We've been a little inconsistent; one game we'll play very well and the next night we might only play one or two good periods and, in our division, you have to play a whole game."

They got that recipe right last weekend, skating to a two-game sweep over Aberdeen in what Strot says "might have been our most solid back-to-back games in a while."

The victories over the Wings - 3-1 on Friday and 9-2 on Saturday - were the result of a total team effort, including stellar performances from forward Jakob Batcha, who put home a goal and three assists over the weekend, David Ripple, who netted a hat trick in Saturday's route, and Lucas Dillon and Zac Frischmon, who combined for two shorthanded goals in the series finale.

"The key was all four of our lines contributing," said Strot, whose team, through 40 games, has 50 points - one fewer than front-running Owatonna with two games in hand.

Ripple, a 19-year-old from Florida who has 10 goals in his last eight games, has impressed in his first season with the Chill, as has rookie defenseman Eric Drapluk, an NAHL Top Prospects Tournament selection who's contributed 20 points from the blue line, and forwards Chris Hughes and Jake Useldinger.

"Chris is playing with a lot of confidence, and Jake has continued his consistent play at both ends of the ice," praised Strot.

The arrival of Batcha, a Coulee Region tender from last year who joined the Chill a couple of weeks ago from the United States Hockey League, has given the team a lift. The only roster addition the Chill has made all season, Batcha, an 18-year-old from Fredonia, Wis., has seven points in his first nine games with the club.

"He's made an immediate impact," said Strot.

A successful run at a division title will also call for continued solid play between the pipes from the netminding tandem of Paul Moberg and Aaron Davis, according to the coach.

Said Strot: "The key for us down the stretch is to continue to do the little things that make a difference and we have to play solid team defense."

And he has little doubt his team has the character and drive to accomplish big things down the stretch.

"I have a lot of confidence in the players we have," Strot added. "Batcha is the only player we've added and that's because we believe in the guys we scouted and brought in. The biggest thing is that (the players) all pull for each other. We have a very tight room."

Speaking of tight, so are the Central Division standings, and the schedule doesn't get any easier for the Chill. It tangles with Austin this weekend - the Bruins knocked off first-place Owatonna twice last weekend - followed by its next nine games against the Express and Bismarck.

"Our division is going to go down to the wire; Alexandria is playing very well right now, too," said Strot. "You can't take a game off, or even a period."

CENTRAL DIVISION NOTEBOOK

ABERDEEN WINGS: Cory Ward continues to light the lamp with regularity, notching both goals in the Wings' 9-2 loss to Coulee Region on Saturday. The 17-year-old from Las Vegas has 25 markers through 40 games, which ranks tied for third most in the NAHL. Aberdeen plays a home-and-home series with Bismarck on Thursday and Saturday.

ALEXANDRIA BLIZZARD: Alexandria has rolled off five wins in a row, thanks to three more victories last week: an overtime triumph over Owatonna and a two-game sweep of Bismarck. Forward Jordan Nelson, an 18-year-old from Williston, N.D., put home three goals and an assist in the wins, and 19-year-old goaltender Jacob Meyers, a Minnetonka, Minn., native, picked up both victories over the Bobcats, stopping 43 of 48 shots.

AUSTIN BRUINS: The Bruins put together arguably their best performance of the season last weekend, knocking off division-leading Owatonna on Friday (2-0) and Saturday (6-1). Forward Charlie Adams (Central Division Player of the Week) and goaltender A.J. Underwood (NAHL Goaltender of the Week) were both recognized for their efforts in the sweep. Austin hosts Coulee Region for a pair of games on Friday and Saturday.

BISMARCK BOBCATS: Despite two losses to Alexandria last weekend, forward Matt Gates, the team's leading scorer, put home two goals and two assists. The 20-year-old NAHL Top Prospects Tournament selection from Palantine, Ill., has 16 goals for 35 points in 36 games. Bismarck tangles with Aberdeen this weekend for home-and-home series on Thursday and Saturday.

OWATONNA EXPRESS: Owatonna's eight-game winning streak came to an end on Wednesday after a 3-2 overtime loss to Alexandria. Despite two more defeats at the hands of Austin, the Express remains in the division lead with 51 points. Owatonna hits the road this weekend, taking on Bismarck on Friday and the Blizzard on Saturday and Sunday.